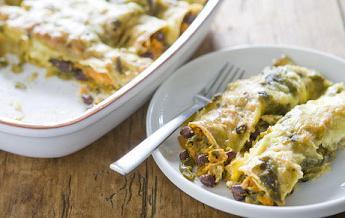 Here's a great dish to serve for when you're in the mood for a hearty meal. I love baking a dish of these on Sunday afternoon and eating the leftovers for lunch all week.
And if you're having company over for dinner, even your less-health inclined friends will enjoy this one. We've had one punk of a friend ask, "Where's the chicken?," but even he cleaned his plate and went back for more. This dish followed by a slice of our vegan cheesecake, and he left plenty happy.
Sweet Potato Black Bean Enchiladas

1 15-oz can organic black beans, drained, rinsed
3 to 4 garlic cloves, minced
2 cups cooked sweet potatoes, cubed
Fresh lime juice from one lime
1/2 cup chopped roasted green chiles
1/2 teaspoon ground cumin
1/2 teaspoon chili powder
Sea salt and black pepper to taste
2 tablespoons chopped fresh cilantro
Green Chile Sauce
1 tablespoon arrowroot starch dissolved in a little bit of cold water
1 cup chopped roasted green chilis
2-3 cloves garlic, minced
1 teaspoon chili powder or cumin
1 cup light vegetable broth
For assembly:
8 white corn tortillas
Shredded vegan cheese
Preheat oven to 350 degrees and choose a baking dish to hold eight enchiladas.
Make the Green Chile Sauce by combining all the ingredients in a sauce pan and heat over medium flame. Bring to a high simmer until thickened. Set aside.
Using a mixing bowl, combine the black beans with the garlic and lime juice. Stir to coat the beans. Add the potatoes with the green chilis and the spices. Season with salt and pepper.
Pour about 1/4 cup of the Green Chile Sauce into the bottom of your baking dish.
In a small frying pan heat a small amount of oil. Light warm the tortillas one at a time to soften them immediately before stuffing each one. Add a generous spoonful of the potato/black bean mixture, wrap and roll the tortilla, placing it at one end of the baking dish, and do this for all eight shells. Top with the rest of your chile sauce. Top with shredded cheese. Bake for 20 to 25 minutes until the sauce is boiling around the edges and the cheese is melted.