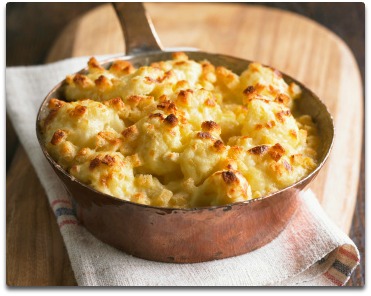 Comfort food is always welcomed! Unfortunately, our favorite comfort foods can be bad for our long term health and our waistline so it's always fun to have hints of comfort food in dishes that are a tad bit healthier. I love my cauliflower mac n' cheese as the cauliflower is used in place of pasta, making it naturally gluten free and sneaking in a great veggie! You can also mix in broccoli or even some smoky tempeh for added protein with a flavorful kick! I hope you enjoy it!
Cauliflower "Mac N' Cheez"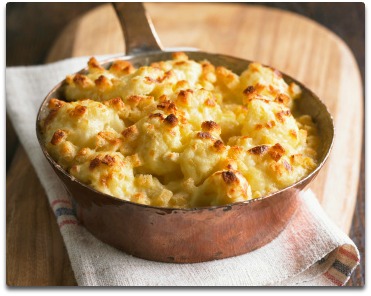 Ingredients
Salt, for water
1 large head cauliflower, cut into small florets
Coconut oil, to coat the pan
1 cup dairy free heavy cream (dairy free heavy cream = 1 block of organic silken tofu (12-ounces) and ½ cup of plain almond milk. Blend in blender until thick and creamy and there are no more lumps )
2 teaspoons Dijon mustard
2 tablespoons nutritional yeast
Salt and pepper, to taste
½ teaspoon freshly minced garlic
Gluten free bread crumbs, for topping
Instructions
Preheat oven to 375 degrees F. Bring a large pot of water to a boil. Season the water with salt.
Coat the baking dish well with coconut oil.
Cook the cauliflower in the boiling water until crisp-tender, about 5 minutes. Drain well and pat between several layers of paper towels to dry. Transfer the cauliflower to the baking dish and set aside.
Bring the heavy cream to a simmer in a small saucepan, and whisk in the mustard until smooth.
Stir in salt, pepper, nutritional yeast and garlic and whisk just until well combined, about 1 to 2 minutes. Remove from heat, pour over the cauliflower, and stir to combine.
Add any mix-ins you would like, mixing well to fully coat and incorporate.
Sprinkle bread crumbs, then bake until browned and bubbly hot, about 15 minutes.