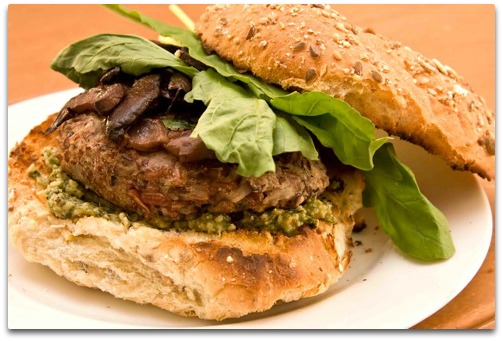 It's almost time for grilling season so why not have a little preview with these yummy and healthy bean burgers with grilled shrooms! Easily made gluten free these are packed with flavor as well as nutrients! Get grillin' and start looking forward to warmer, sunnier days!
Vegetarian Shroom & Bean Burgers (V,GF)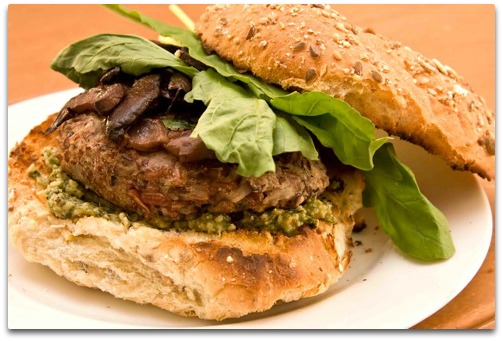 Ingredients
1 15-ounce can kidney beans, drained and rinsed
1 small red onion, shredded and squeezed dry (about ½ cup)
⅓ cup chopped walnuts
1 small carrot, finely diced
1 cup plain breadcrumbs (gluten free if desired)
2 scallions, white and green parts, finely chopped
2 tablespoons chopped fresh parsley
2 teaspoons nama shoyu
Sea salt and pepper
3 tablespoons olive oil
3 cups assorted mushrooms, sliced
4 gluten free hamburger buns, split and toasted
Ketchup, mustard, and/or real mayonaise for garnish
Baby spinach or arugula, for garnish
Sliced tomatoes
Sliced avocado
Instructions
Smash the beans in a bowl with a potato masher or fork until slightly chunky.
Add the onion, walnuts, carrot, ½ cup breadcrumbs, scallions, parsley and 1 teaspoon nama shoyu sauce.
Season with salt and pepper and mix with your hands until combined.
Spread the remaining ½ cup breadcrumbs on a plate. Form the bean mixture into 4 patties; lightly coat with the breadcrumbs, shaking off any excess.
Heat 2 tablespoons olive oil in a large nonstick skillet over medium-high heat.
Add the patties and cook until golden and slightly crisp, 2 to 3 minutes per side. Transfer the burgers to a plate.
Heat the remaining 1 tablespoon oil in the same skillet over medium heat. Add the mushrooms and the remaining 1 teaspoon nama shoyu.
Season with salt and pepper and cook until the mushrooms are slightly wilted, 3 to 4 minutes.
Serve the burgers on the buns with the dressings of you've chosen, baby greens and mushrooms and add the tomatoes and avocado too!