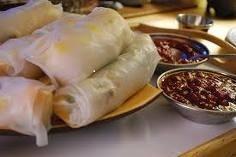 I made these spring rolls as a side dish, but they were so good Brad and I could not stop eating them and didn't touch much of our main dish that night! 
Butternut Squash and Pumpkin Seed Spring Rolls
Ingredients:
12 8-inch round rice paper wrappers
1 lb butternut squash
4 ounces vermicilli rice noodles
1/3 cup roasted, salted pumpkin seeds (or raw if you prefer)
1 cup fresh cilantro (or Thai Basil, or half of each)
1 Tbs+ extra virgin olive oil (cold-pressed) 
Directions:
Preheat the oven to 400°F.  Peel the squash, scoop out the seeds, and cut into 1/4 inch cubes.  Coat the cubes in the olive oil (use as much oil as necessary to be sure they are each well-coated) and place in a single layer on a baking sheet.  Bake for 15 minutes, then remove from the oven and toss the cubes.  Continue baking in the oven for another 10 minutes or until the cubes are slightly tender and beginning to carmelize.  Transfer the cubes to a plate to cool.
While the squash is baking, cook the vermicilli rice noodles.  Bring a large pot of water to boil, then turn off the heat, add the noodles, and let them sit for 10 minutes, stirring occasionally.  Drain them in a colander and immediately run cold water over them to stop the cooking process.  Set them aside for assembly.
Tear cilantro into bite-sized pieces.  Chop pumpkin seeds coarsely. 
Lay a clean, slightly damp kitchen towel or a pile of paper towels on your counter.  This is your work surface for the assembly of the spring rolls.  Fill a large bowl with very arm water.  Always be very gentle with the rice paper.  Submerge two rice papers at a time and let them sit about one minute – until they are soft.  Remove the wrappers and place one at a time on your work surface (I personally doubled mine up).
As you place the filling in the wrapper, be sure to leave 1 1/2 inches of margin on each end for folding the roll.  Place approximately 1/4 cup of the rice noodles in the lower third of the rice paper (horizontally), then place a layer of butternut squash above the noodles.  Sprinkle these with the cilantro and pumpkin seeds.  Create the roll by snugly folding the right and left sides of the wrapper over the filling (your filling is lying in the wrapper horizontally).  Lift the bottom of the wrapper over and tuck beneath the filling, then roll it firmly bt gently.
Place the roll seam-side down on a plate and cut it in half when you are ready to serve. 
Serve with Asian Dipping Sauce or Cranberry Chili Sauce (my favorite). 

Health Benefits: 
Notes:  You can use regular olive oil in this recipe, but Using unrefined and not chemically-processed oils in your cooking will greatly increase the healthfulness of your food (there is a whole-food concept with oils as well as solid foods).  You can also gain more nutrients though acheive a different flavor by using raw or even sprouted pumpkin seeds instead of roasted and salted.
The butternut squash is a powerhouse of whole-food nutrition.  It provides dietary fiber (heart and digestion-friendly), potassium (critical mineral for muscle and bone health that is hard to come by from foods), vitamin B6 (essential for the proper functioning of the nervous and immune systems), folic acid (also critical for proper nervous system functions including memory and mood), and carotenoids (shown to protect against heart disease), specifically beta-carotene (which your body automatically converts to vitamin A and has been identified as a deterrent against breast cancer) and a lot of vitamin C (powerful antioxident, extremely helpful in overcoming colds and flus).
As if this weren't enough, butternut squash has been shown to have anti-inflammatory effects (can actually help reduce your risk of inflammation-related disorders such as rheumatoid arthritis and asthma, so it's definitely one of my favorites).
Olive oil of high quality (see my note above) also acts as an anti-inflammatory.
Rice noodles and paper provide a gluten-free grain (avoid inflammation).
Pumpkin Seeds (again, see note above) – here's 10 great health benefits: 1) great for prostate health, 2) improves bladder function, 3) eases depression with L-tryptophan, 4) helps prevent osteoporosis with zinc, 5) anti-inflammatory, 6) helps prevent kidney stones, 7) helps kill parasites, 8) great source of magnesium ("relaxation mineral"), 9) lowers bad cholesterol with phytosterols, and 10) helps prevent cancer because of that same phytosterol.
Cilantro boosts your ability to fight both viral and bacterial infections, and even helps detox heavy metals from your body.