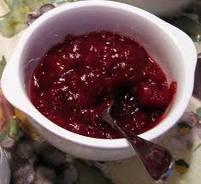 I absolutely love cranberries. Even if you don't love them as much as me, you're going to love them in this fantastic sauce. It goes with almost anything.
This is not your typical cranberry sauce, and just get any image of something slimy coming out of a can out of your mind right now. This is some seriously awesome homemade cranberry sauce with a spicy kick!
Cranberry-Chili Sauce
Ingredients:
1 cup whole, fresh cranberries
1 to 2 large serrano chiles (use number and type of chili based on spice preference)
2 Tbs fresh lime juice
1½ cups cold water
½ cup evaporated cane juice (raw, unrefined sugar cane)
Directions:
Seed and finely mince the chiles and set aside. Juice the limes and set aside.
Make the cranberry sauce by combining the cranberries, water and sugar in a medium-sized saucepan. Cover and bring to a boil. When the cranberries start to pop, reduce the heat to medium and simmer, partially covered, for about 5 minutes.
Add the minced chiles and lime juice, bring to a boil again, and then lower the heat to medium-low. Using a wooden spoon, stir the sauce occasionally and use the back of the spoon to mash some of the cranberries against the sides of the pot.
Simmer the sauce, uncovered, for an additional 10 to 12 minutes until it looks syrupy. Remove from heat. The sauce will thicken up more as it cools. Store in an airtight container in the refrigerator after cooling.
Health Benefits:
Note: Using raw, unrefined sugar cane instead of processed white sugar will provide more nutrients and most importantly help you avoid a major sugar spike in your blood (raw sugar will hit your system more slowly than refined & processed sugar).
Cranberries help fight and protect from bacerial diseases, act as an anti-inflammatory, and prevent the growth and spread of certain cancers.
Chiles contain an amazing phytonutrient called capsaicin that helps ease pain, among other things. Chiles are also a great source of vitamin C, packing more than any citrus fruits.
Lime is also a good source of vitamin C, and it also aids in digestion.