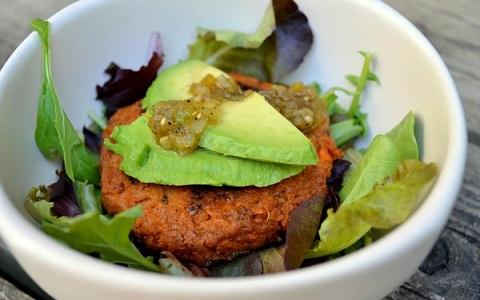 If you know us you know we love sweet potatoes. And for me, one of my most common cravings is for a good burger. Luckily, there are recipes like this one for a sweet potato burger that knock that craving out of the park.
Ingredients:
2 cups sweet potato (about 1 large potato) – baked, peeled, and mashed
2 cans beans, drained and rinsed (We've used black beans, navy beans, and pinto beans. Any soft bean will work.)
1 large carrot, grated
1 large onion, finely chopped
1 celery stalk, finely chopped
2 green onions, finely chopped
1/4 cup chopped fresh basil
1/4 cup gluten free flour (almond meal, buckwheat flour, garbanzo bean flour, etc)
2 tsp maple syrup
2 Tbsp tahini
1 tsp garlic powder
1 tsp ginger powder
1/2 tsp salt
Gluten free bread crumbs
safflower oil for pan
Toppings: Avocado, romaine, mustard, onions, etc.
Directions:
1. Bake sweet potato by wrapping in aluminum foil and baking at 400 degrees for 30 – 40 minutes. Peel and place in large mixing bowl. (If you're like me and enjoy eating the peel, toss the whole potato in the Blendtec and blend it up!)
2. Add beans, onion, carrot, celery, green onions, and basil into mixing bowl, mash into the potato.
3. Stir in flour and spices. If you need a bit more flour to hold the  mixsture together, and a tablespoon at a time.
4. Heat 1 Tbsp olive oil in a pan over low heat.
5. Create your burger patty from the mixture, then give it a generous coating of the gluten free crumbs.
6. Carefully place each patty into the pan and cook for about 5 minutes on each side.
Dress it up! If you're not avoiding gluten, toast a whole grain bun, and the patty and the fixin's, and enjoy. We typically eat our burgers wrapped in a romaine or chard leaf. This patty can fall apart pretty easily, so sometimes we'll just put it over a bowl of greens with quinoa or millet, add in all the toppings, and eat it with a fork. Tastes just as great.