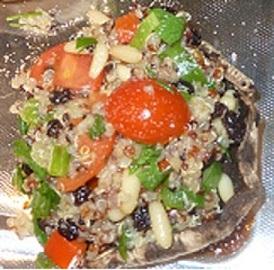 If you look closely at the picture of this tasty dish, despite the amateur photo and poor lighting, it still looks delicious. And it was. I cooked these up for dinner in our Melbourne (Australia) long-term stay hotel, so I'm extra proud of them. It was well worth the effort, and these make a great side dish or a lovely, light main.
Stuffed Portobello Mushrooms
Ingredients:
4 large Portobello mushrooms
2 cups of cooked quinoa
1/2 cup yellow and red grape (halved) or cherry tomatoes (quartered)
1/2 cup bell peppers (green, yellow, red), coarsely chopped
4 scallions, sliced
1/3 cup pine nuts
1/3 cup currants (or raisins)
3 cloves garlic, chopped
Olive oil
Balsamic vinegar
Sea salt and ground pepper
Fresh chopped parsley, basil or mint
Directions:
Preheat the oven to 350 degrees F.
Gently clean off the mushroom caps; slice off the stems and using a sharp teaspoon carefully scrape out the gills. Lightly oil the bottom of a baking dish and place the caps in it. Drizzle with a scant amount of olive oil and balsamic vinegar, and sprinkle with a little salt and pepper. Bake the mushrooms for 12 to 15 minutes to soften a bit.
In a skillet, heat a little olive oil and toss in the garlic. Stir for a minute. Add in the cooked quinoa, tomatoes, peppers, scallions, currants, and pine nuts. Season to taste with salt and pepper. Gently stir to combine, adding more olive oil to moisten if needed unti just heated through.
Remove from heat. Add in the fresh chopped herbs. Stuff mixture into each mushroom cap. Tent baking dish with foil.
Bake in the oven for 15 to 20 minutes, till the mushroom cap is tender.
You can also assemble these ahead of time, and refrigerate. If you do this the only change is to bake at 350 degrees F. for 30 minutes or more, as needed, till hot and tender.
Health Benefits:
Portobello Mushrooms are great sources of protein, fiber, vitamins B and C, calcium and other minerals, especially potassium (more than bananas). They have been shown to possess a number of health benefits such as protecting heart health, boosting immune function, reducing inflammation, combating allergies, balancing blood sugar, reducing high cholesterol, and supporting detoxification.
Quinoa is high in fiber and a complete protein. Quinoa is high in minerals like manganese, magnesium, iron, copper and phosphorus. It helps prevent type 2 diabetes, asthma, heart diseases, gallstones and migraines. It helps provide energy and relaxes muscles and blood vessels.
Peppers are rich in vitamins A, C, and K. Vitamins A and C help prevent cell damage, cancer, and diseases related to aging, and they support immune function as well as reduce inflammation. Vitamin K strengthens bones, helps promote proper blood clotting, and acts as an antioxident. There are penty of phytonutrients in peppers as well, with many being shown to help reduce the risk of many cancers. Peppers also provide a decent amount of fiber and are great for digestion.