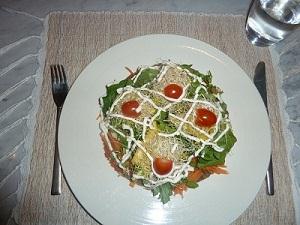 Brad and I are in Indonesia right now, on the island of Bali. We've been staying in a town called Ubud, and there is so much to love about this place! We made a point of coming here to Ubud because we had heard that it's a bit of a haven for health and yoga retreats, so we figured it would be our best bet for finding good food options. It has pleasantly exceeded our expectations and even hopes. There is all the yoga, $10 massages and healthy food you could want. We're pretty much in heaven. The people and the culture and the landscape are absolutely lovely. And did I mention the food?!
We have eaten at a different place almost every meal, and eaten out almost every meal (the latter is extremely unusual for us). And every meal has been healthy and great, if not fantastic. I would say more restaurants and cafes serve organic and raw food than don't here. Tending to be analytical, I couldn't help but compare our healthy eating options here to our most recent stay in Melbourne. Add that to being the numbers nerd I am to find me reminding a thoroughly interested Brad yesterday that in a city of about 4 million people (Melbourne) we were able to track down one restaurant that served raw food and maybe 5 that served organic food. Here in this town on a much smaller island there are dozens of raw food restaurants and many dozens of organic food places to eat. It's like we hit the jackpot. I don't think there are many places in the world that have this level of concentration of healthy food restaurants.
So it may not be surprising that last night we had one of our best dining experiences ever, but it was so good I had to check with Brad this morning to make sure I hadn't dreamed it. Ironically it wasn't just the food that made the experience, though – the whole thing was a total adventure. Indulge me while I re-live it for you:
After checking a traveler's guide, I decided to take its suggestion and make a dinner reservation at a restaurant called Glow, located on a private resort (there are a lot of resorts here in Ubud). Glow apparently serves organic food and half its menu is raw, and we hadn't tried it yet. The man who took the reservation seemed to have a lot of questions, down to making sure he spelled my name correctly. He also offered complimentary transportation, but we had our rented scooter and Brad said he knew where it was, so I declined.
One hour later we were heading out the door. Getting there was our first adventure. About halfway there, fairly far from where we're staying and with no cell phone, I discovered that Brad knew what direction it was in but not its actual location, owing to the fact that our map didn't show that far away. After many twists and turns we finally found it tucked away in an especially gorgeous and secluded spot of land. As we pulled up to the security guard checkpoint on our scooter with our awesome helmets and dressed in our casual and now dirty clothes, it became apparent that the reservation was required to literally get in to the restaurant . . . as in, past the stringent security checkpoint. After a little back-and-forth on the radio one of the guards kindly showed us to a spot where we could park our scooter next to all the really nice luxury vans. There were no other scooters there, and in looking around at the grounds I knew we were way under dressed and that I should have taken that guy up on the complimentary transportation.
As it turned out, if we looked like orphan pick-pockets to any of the service people at that resort, they didn't give the slightest indication. The entire evening they all (and there were a lot of them) called me "Miss Kelli' every time they spoke to me (the two of us were Mr. and Mrs. Kelli). They were incredibly polite and kind, and they had definitely learned the Andy Bernard art of name repetition. As one of them guided us thru the grounds to the restaurant, it just got more and more beautiful. It was unbelievable. This was a very high class resort (which I would have known if I had read what the guide had to say about the resort itself before we went to its restaurant). So, the setting and the service were both incredibly outstanding, and no one said boo to us for bringing the atmosphere down a few notches with our appearance other than a nasty look from the woman dining next to us. Yep, it was fancy.
Have I forgotten about the food? No way. That was the best part. It all looked and tasted absolutely beautiful. Get this: our dinner started out with a little plate of sliced raw veggies and hummus with dill and lemon. Our bread basket had nice, freshly-baked real whole wheat bread as well as . . you won't believe this . . dehydrated crackers (gluten-free). And they were delicious! The bread and crackers came with olive oil and (instead of the balsamic vinegar we're used to) some curry powder you could mix in with the oil. We shared a raw soup made of pumpkin, apple and coconut. I had been wondering what a raw soup would be like, never having tried one before. I figured this would be a great place to try one. Wow. It was so delicious, I can't wait to find out how to make my own raw soups. Our entrees (or "mains" as they're called on this side of the world) were a raw pizza for Brad and cooked chickpea-stuffed mushrooms for me. Just a side note: we share all our food, so that way we get to try twice as many dishes. Cover more ground.
This was the first time an order of raw pizza was a whole pizza and not just one slice. And it was a really good pizza. And the other dish? Curried chickpea-stuffed mushrooms in a light and delicious broth with some stewed cherry tomatoes, carrots and pumpkin. Brilliant. We each got a palate cleanser sorbet of ice flavored with real watermelon sitting on some real yogurt (a granizado – but a "real food" one) then rounded the whole thing off with a raw passion fruit-mango cheesecake and a pumpkin quinoa custard with orange sorbet for dessert. Were they good? It was the best raw cheesecake I've ever had, and I've had some great ones. I was totally unsure about ordering the custard – more intrigued than expecting it to be good. It was amazing. I loved it.
So I'm still daydreaming about last night's dinner. I am so grateful for the entire experience and for once again feeling a renewed excitement to get experimenting in the kitchen again. In the shorter-term, I'm looking forward to a raw food retreat I'm heading to this weekend. I'll let you know how it goes!