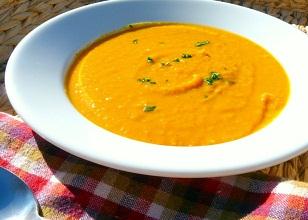 We're fans of butternut squash and find ways to use it fairly often. So we've had the fortune of sampling our fair share of butternut soup. We came across this recipe last year, and with a few adaptations to clean it up, it is by far our favorite.
Roasted Butternut Squash Soup (V, GF)
Ingredients:
4 cloves garlic, not peeled
2 tablespoons olive oil, divided
1 butternut squash, about 2 ¾ pounds
1 small to medium sweet yellow onion, cut into 1-inch pieces
2 carrots, peeled and sliced about ¾ -inch thick
4 to 5 sage leaves, thinly sliced
½ teaspoon salt
¼ teaspoon pepper, plus additional pepper to taste, divided
1 32-ounce carton vegetable stock
¼ teaspoon rubbed sage
Directions:
Preheat oven to 375 degrees.
Line a baking sheet with aluminum foil.
On a separate piece of aluminum foil, about six inches long, and place the unpeeled garlic cloves. Drizzle ½ teaspoon olive oil on the garlic, then fold in the foil to create a closed pouch. Place the pouch on the side of the baking sheet.
Peel the squash, cut off the ends, then cut in half to remove the seeds. Cut into small cubes. In a mixing bowl add squash, onion and carrots. Add remaining olive oil. Sprinkle with salt, ¼ teaspoon pepper and sage leaves then lightly stir until evenly coated. Place the veggies in a singled layer on the baking sheet, surround the garlic pouch.
Bake for 20 minutes uncovered. Stir the vegetables then roast for an additional 15 to 20 minutes until they are very tender and golden brown.
Allow to cool slightly then spoon into a blender or food processor. Open garlic carefully and let cool slightly. Squeeze the garlic out of skin and add to the vegetables.
Blend until smooth, adding small amounts of vegetable stock to ease processing if necessary. Pour into saucepan.
Stir in rubbed sage and vegetable stock. Add pepper to taste. Cook at medium heat until hot, stirring occasionally. Serve into individual bowls and enjoy!
While this soup is fantastic on its own, we also enjoy eating this soup over quinoa. We also love sprinkling in raw or roasted pumpkin seeds, depending on preference.
Makes 6 servings (about 7 cups)
Health Benefits:
Butternut squash is a powerhouse of whole-food nutrition. It provides dietary fiber (heart and digestion-friendly), potassium (critical mineral for muscle and bone health that is hard to come by from foods), vitamin B6 (essential for the proper functioning of the nervous and immune systems), folic acid (also critical for proper nervous system functions including memory and mood), and carotenoids (shown to protect against heart disease), specifically beta-carotene (which your body automatically converts to vitamin A and has been identified as a deterrent against breast cancer) and a lot of vitamin C (powerful antioxidant, extremely helpful in overcoming colds and flus). As if this weren't enough, butternut squash has been shown to have anti-inflammatory effects (can actually help reduce your risk of inflammation-related disorders such as rheumatoid arthritis and asthma, so it's definitely one of my favorites).
Garlic boosts antioxidants and helps transmit signals between cells. It appears to protect your heart and protect you against many types of cancer, too.
Olive oil of high quality also acts as an anti-inflammatory.