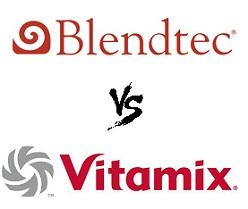 Kelli and I love spending time in the kitchen exploring new recipes and inventing concoctions of our own. Hands down the tool that we use most is our blender. Our friends know that it's practically a member of our family. So we get asked about it a lot, particularly in regard to which is better when it comes to the Blendtec vs Vitamix debate, the two best blenders for smoothies and food processing. We're going to add our two cents to the many blendtec and vitamix reviews that are out there.
Having used both, there are a few differences we've learned about the two and why we're happiest sticking with our Blendtec.
Here's the first thing we love about it: it takes some serious abuse and just doesn't quit.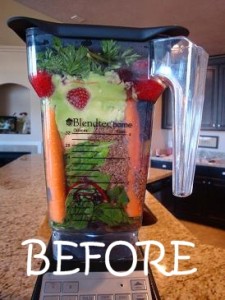 It really is amazing how much we use the thing. It's almost a daily occurrence that we use it for making smoothies in the morning and continue to be amazed that it handles everything we throw at it. It barely even has to get out of bed to knock out a ten-ingredient smoothie, liquefying carrots and apples with a yawn.
When it comes to cooking, we owe many a meal success to the Blendtec…hummus, kimchi, soups, and the list goes on. It's also perfect for making our own flours (almonds, flax, buckwheat, etc) and it doesn't even flinch when it comes to nut milks.
Almost every raw food recipe requires blending or processing, all of which we can do with this one machine. And then there's them crazy good desserts we love – chocolate pudding made from avocados, raw cheesecake from cashews, pumpkin pie – those are all one-machine wonders with the Blendtec on hand.
When we sold nearly everything at the end of 2010 as we were getting ready to head to Costa Rica, our Blendtec was the one kitchen appliance we kept, even beating out Kelli's prized Kitchen Aid! Carrying the blender in my backpack when we were traveling got me some funny looks from the TSA folks.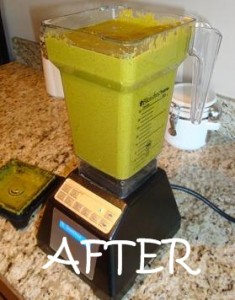 Leaving Costa Rica to fly back to the States, and then flying to New Zealand, I was tired of it taking up space in my small pack, so from then on I jammed it in the suitcase. Not once, not twice, but at least a dozen times. So between the non-stop use in the kitchen and the severe beating I allowed it to take at the hands of the oh-so not careful baggage handlers, we're blown away by how tough the Blendtec is.
To be fair, we haven't put a Vitamix through that kind of workout, but I think it'd be hard pressed to live up to the Blendtec's brawn.
If you want technical stuff, here you go. The Blendtec blenders have up to three horsepower, and the Vitamix peaks at two. Thirteen amps of power for the Blendtec; eleven and a half for the Vitamix. In size, the Blendtec pitcher is shorter and wider making it easier to store.
One thing we  really like about the Vitamix is the plunger that you can control from the top of the lid. It allows you to stir the ingredients and push down chunks of fruit or veg that might be holding things up. But last year we got Blendtec's relatively new five sided jar and have been amazed at the difference it makes. For some reason the fifth side allows the blender so pull everything down to the blades even better than before. Haven't wished for that plunger since.
A drawback to the Vitamix for us is that it doesn't run any pre-programmed cycles. It has speed and power control dials but both must be controlled manually. With the Blentec you can choose an appropriate cycle for your needs and then walk away. The cycles don't always get it exactly right and you may have to push the pulse button a couple times to finish the job, but we really do like the programs and use them a lot.
We can also personally attest to the warranty coverage and customer service. Somewhere a couple years back when Kelli and I had one of our more "impressive" fights, someone, I can't remember who, in a moment of frustration "accidentally dropped" the blender on the floor. Both of us stopped in our tracks with a look of shock on our faces. A line had just been crossed. 🙂 First we checked the ceramic tile; it was ok. Then we tried the blender. Not ok. Attempts to resuscitate were unsuccessful. After repairing our relationship, we set off to fix the blender.
We told Blendtec what happened and they were amazing. Because it was under warranty, they simply agreed to replace it. Seriously. It was totally our (we'll share the blame) fault and they didn't care. On top of that, our model had been phased out, so they replaced our older, broken unit with a new upgraded model. Thinking about it now, that may have been what solidified our loyalty…to Blendec (and each other : ).
Or, maybe it was their commercials. I mean, come on. Who doesn't love those "will it blend" videos on YouTube? Golf balls, iPhones, tools, brooms, holy cow. Here's a fun one for you…
Alright, so there's our take. If you have a Vitamix, you're all set. Keep it, use it, love it. It will do everything you need it to do. If you're in the market for a blender and are on the fence in the Blendtec vs Vitamix debate, we can definitely say you'll enjoy the added features and benefits of the Blendtec.
You'll see a lot of the recipes on our site calling for a food processor or blender. When it comes to serious (and easier) cooking, a serious blender is a must-have. So if you don't have one yet do yourself a favor and buy a Blendtec!

Yes, that is an affiliate link so if you click on it and buy a Blendtec, we will get paid. And we thank you. After so many people have bought a Blendtec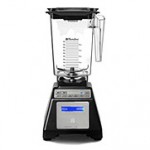 after we told them about it, we figured we might as well get a little cut from the sale from now on right? 🙂