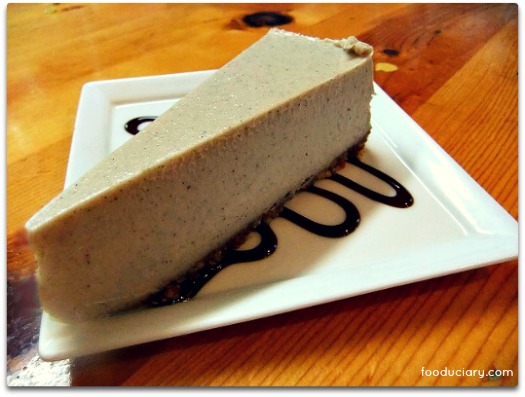 Every once in a while you come across a healthy version of one of your favorite desserts from the past and you wonder if you've sinned and eaten something you shouldn't have. That's this cheesecake. It's so good I like to eat a piece for breakfast, maybe two for lunch, one for dinner, and one more just before bed. Ok, maybe I don't eat that much, in one day, but the thought does cross my mind.
If you've missed cheesecake since learning about the health issues associated with dairy, this one is good enough that not only will you no longer feel bad about not having the traditional kind anymore, you could actually make your dairy eating friends jealous because yours tastes better than theirs. Yep. I consider this one a dessert miracle.

Raw Cheesecake for Cheesecake Lovers (V,GF,R)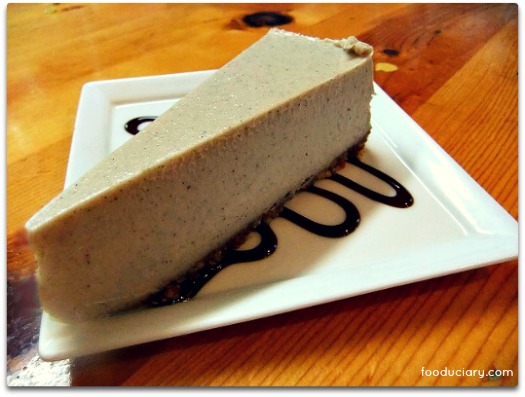 Ingredients
3 cups cashew pieces
2 cups walnuts, pecans, or macadamia nuts (for the crust)
½ cup dates, pitted
½ cup coconut oil (organic, virgin, cold-pressed)
½ cup honey or maple syrup
¼ to ½ cup shredded coconut
¼ cup water
3 limes
2 tsp vanilla
½ tsp salt (sea salt)
Instructions
Soak the cashew pieces in water for at least one hour.
Sprinkle coconut over the bottom of a 9" pie plate. This will help keep the crust from sticking to the pan.
Combine the other nuts (choose which ever type you prefer, or use a combination) and dates in a food processor or heavy-duty blender and process until well-blended. Press this mixture into the pan on top of the coconut to form the crust.
Drain the cashews and combine with the remaining ingredients in a heavy-duty blender. Blend until the mixture is smooth and creamy. Pour into the prepared crust and put in the freezer for at least 4 hours or until frozen.
Defrost in fridge and serve chilled.
Health Benefits:
Cashews pack a lot of great health benefits. They contain a high amount of protein and dietary fiber (which help with appetite and weight management, among other benefits). Cashews are a good source of antioxidents, as well as magnesium and copper (which are great for bones, joints, and connective tissue). Cashews do not contain cholesterol.
Coconut oil has many unique and incredibly helpful health benefits, with continual research revealing even more health benefits all the time. Coconut oil is antiviral, antibacterial, antifungal, and really strengthens your immune system. Coconut oil actually increases metabolism and it also does not contain cholesterol. To get these benefits, be sure to use virgin coconut oil that has not been refined or processed (cold-pressed will assure that).
photo credit: happykatie cc