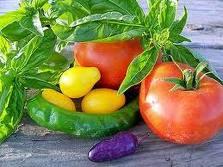 I'm preparing to start a detoxification diet tomorrow. This isn't the lemons and maple syrup type of detox diets that have been so popular. This is an eating clean healthy detox diet.  It's a change your lifestyle, take-control-of-your-health kind of diet. This is the diet that just over a year ago really turned my health around, most impressively kicking my Rheumatoid Arthritis (RA) flare to the curb within the first week.  Personally, I'm hoping for a repeat.  🙂
 I wrote a little while ago that I had another flare the day before we flew out to Costa Rica.  It's been disappointing and difficult, but I've known from the get-go that my greatest hopes lie in doing what worked for me before – this diet.  I'm really looking forward to experiencing the impact this diet will have on my RA and on my health in general.  Even though Brad and I eat very healthy nearly 100% of the time, it's still possible for "bad guys" to get into your gut and throw things off (one of the things this diet corrects). When I did this diet the first time my doctor told me that it should be repeated at least once a year and I can see why. Stress, traveling, the occasional unhealthy food or snack…those things all contribute to needing an annual reset to put your body back in order.
 The most amazing thing to me about this diet is the almost immediate impact it had. In fact, because I've had so many questions about what I did to make the very noticeable changes to my health, and because the diet has so many great health benefits for anyone and everyone, I'm working right now on putting together a guide for what the diet is and how to follow it.  It's great for giving your body a clean start anytime, but I'd especially like to have it available as close to New Year's as possible.  It's very timely and will be that much more helpful since I will be working through the diet again as I write the guide.
 Besides requesting a few supplies from home that I'll need during the diet, I've spent the last couple days preparing for another round. Brad and I are eating up all our foods that aren't on the menu for the next little while, I'm focusing on all the foods I can eat in the first phase and trying to come up with great meals and snacks to keep us on track, and in a few hours we'll go to the grocery store and stock up on those foods we'll be eating in that first phase (lots of veggies, nuts, fish, and eggs). 
 I keep thinking of the huge difference this diet made for me the first time.  It gave me the ability to get rid of about 80% of my prescription medications within two months, and more as time went on.  I had my first pain-free hike and I was actually able to keep up with Brad and go where he went.  I had my first vacation with Brad without using steroids or painkillers to get through it. 
 I'm so excited to get feeling better . . . again.  Ding ding ding . . . Round 2 is on!