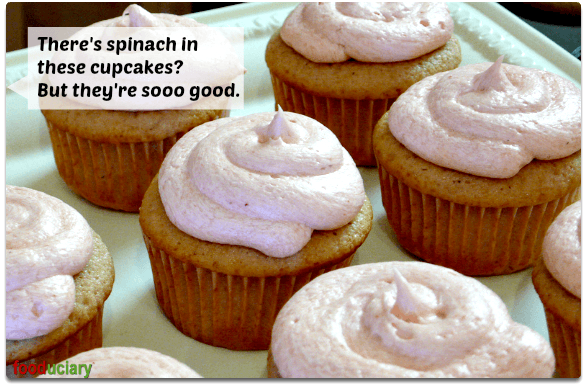 I never cease to be amazed on the number of places you can sneak in a healthy dose of fresh spinach. It should be called the camouflage veggie.
We snuck some spinach into a delicious gluten and dairy free cupcake topped off with a fresh strawberry frosting. Now doesn't that just say it's time for summer or what? We're pretty happy with how these turned out. See what you think.
Dairy Free Summer Salad Cupcake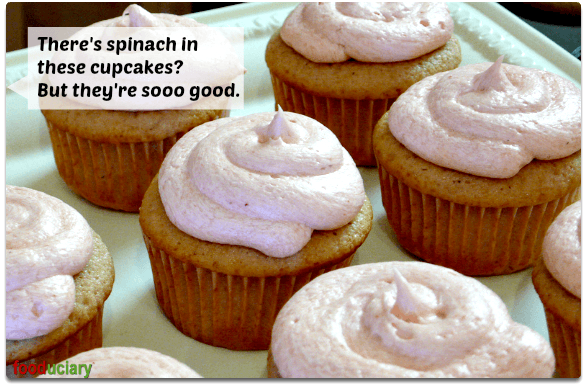 Prep time:
Cook time:
Total time:
Ingredients
1 Cup almond milk
1 tsp apple cider vinegar
1 Handful fresh spinach
¾ Cup sucanat or coconut sugar
⅓ Cup coconut oil
1 tsp almond extract
½ tsp sea salt
½ tsp baking soda
1¼ Cups coconut flour
½ Cup raw walnuts, chopped
FOR THE FROSTING
¼ cup palm shortening
8-10 Fresh strawberries, pureed in blender
3½ cups sucanat, powdered in processor or blender, divided
1 Tbs almond milk
1 tsp vanilla extract
Instructions
Line muffin tin with cupcake papers. Preheat oven to 350.
Combine the almond milk and vinegar in a small bowl. Set aside.
Add the spinach, sucanat, coconut oil, almond extract, and salt to your blender. Process until the spinach leaves are small and ingredients are well combined.
Scoop out the spinach mixture into a mixing bowl. Add baking soda, baking powder, and coconut flour. Stir to incorporate but just barely. Do not over stir.
Gently fold in the walnuts. Then portion out to the muffin tins.
Bake for 22 - 25 minutes until a toothpick comes out clean, or only slightly gooey.
While those are baking, make the frosting by beating the shortening until smooth.
Add two cups sucanat while continue to beat. Then add strawberries, almond milk, vanilla. Beat to combine.
Finally, add remaining 1½ cup sucanat and beat for 3 - 4 minutes until light and smooth.
Allow cupcake to cool before frosting.
photo credit: leftylaney