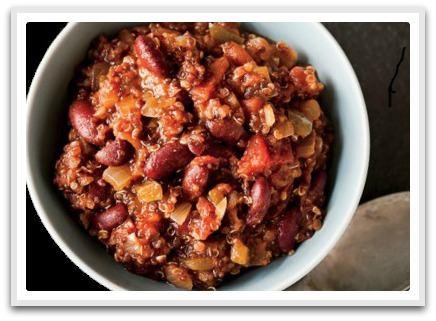 This is a hearty meal for anyone, especially great for vegans and vegetarians because the beans and quinoa both provide high amounts of plant-based and complete protein. This is a pretty basic chili recipe. Don't be afraid to add more veggies to it. I took the liberty of adding celery and carrots to the ingredient list below, but we also usually add squash, zuchini, and regular spinach as well and top it with avocado. Get creative. There's no such thing as too many veggies.
Quinoa and Bean Chili (V,GF)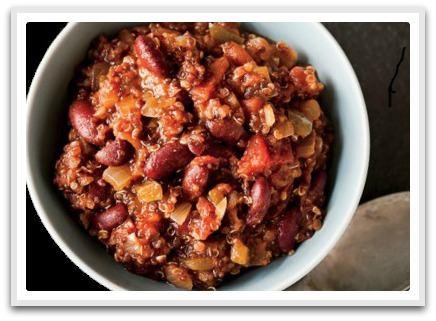 Prep time:
Cook time:
Total time:
Ingredients
1 cup quinoa, thorougly rinsed
1 (14-ounce) can navy beans, rinsed and drained
1 (14-ounce) can black beans, rinsed and drained
1 (14-ounce) jar Italian tomatoes, crushed
1 onion, peeled and finely chopped
1 bell pepper, any color
2 cloves garlic, peeled and crushed
2 carrots, peeled and sliced
2 stalks celery, washed and sliced
2 Tbs extra-virgin olive oil
3 Tbs chopped flat-leaf parsley
1½ tsp chili powder
1 tsp salt
Freshly ground black pepper, to taste
⅓ cup chopped green onions
½ cup real mayonaise
½ - 1 Tbs grape seed oil
½ - 1 tsp lemon juice
Instructions
Put onion, pepper, garlic, carrot and celery in a saucepan with olive oil. Cook gently for 10 minutes or until vegetables soften. Stir in the chili powder and cook for 1 minute. Add tomatoes, salt and pepper and bring to boil. Cook sauce gently for 25 minutes or until pulpy.
Cook quinoa in plenty of gently boiling water for about 12 to 15 minutes or until it softens. Pour the quinoa into a fine sieve, making several steam holes through it with a skewer, and let it drain.
Add drained beans to the tomato sauce and cook for a minute or two. Stir in parsley.
Wisk mayonaise, lemon juice, and grape seed oil (adjust amount of oil and lemon juice to achieve desired consistency and taste) to create "sour cream."
Divide quinoa into individual serving bowls and spoon chili on top of quinoa. Garnish each with a dollop or two of the "sour cream" and ¼ of the chopped green onions. Serve immediately.
Health Benefits:
Beans are a great source of both fiber and protein. The protein in beans is complete, meaning it contains all 9 of the essential amino acids. It also is a great source of calcium, potassium, vitamin B6, magnesium, folate, and alpha-linolenic acid (an Omega-3 also found in faxseeds and walnuts).
Quinoa is also high in fiber and complete protein. Quinoa is high in minerals like manganese, magnesium, iron, copper and phosphorus. It helps prevent type 2 diabetes, asthma, heart diseases, gallstones and migraines. It helps provide energy and relaxes muscles and blood vessels. So who cares if no one can agree how to pronounce it.
Peppers are rich in vitamins A, C, and K. Vitamins A and C help prevent cell damage, cancer, and diseases related to aging, and they support immune function as well as reduce inflammation. Vitamin K strengthens bones, helps promote proper blood clotting, and acts as an antioxident. There are penty of phytonutrients in peppers as well, with many being shown to help reduce the risk of many cancers. Peppers also provide a decent amount of fiber and are great for digestion.