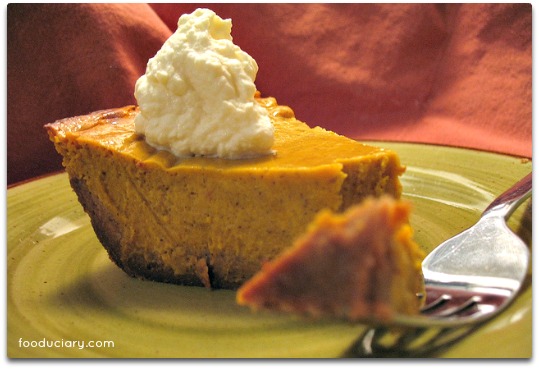 That's right – this is a vegan, gluten-free pumpkin pie recipe that you can serve to anyone (if you don't eat it all yourself first).
Brad's favorite dessert is pumpkin pie, so when we decided to eat more healthfully I went straight to work to come up with this. He loves it. We call it healthy pumpkin pie, and we eat it like it's going out of style.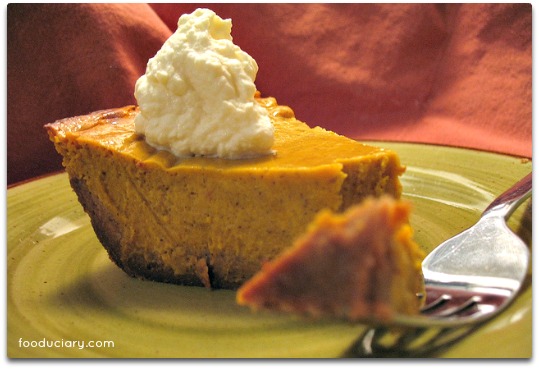 Prep time:
Cook time:
Total time:
Instructions
Preheat the oven to 350° F. Lightly oil a 9" glass pie plate with a little olive oil.
Combine all ingredients in a food processor or heavy-duty blender and process until smooth. Stop and scrape the sides of the bowl or blender a couple times to make sure all the dry ingredients get mixed in properly. Pour the creamy mixture into the pie plate and smooth evenly.
Bake in the center of the oven for about one hour. The pie is done when it is firm but still gives a little when lightly touched. The center should not be wet.
Cool the pie on a wire rack completely (it will fall a little as it cools). Cover and chill in the refrigerator before serving.
Health Benefits:
Notes: You can use regular olive oil in this recipe, but using unrefined and not chemically-processed oils in your cooking will greatly increase the healthfulness of your food (there is a whole-food concept with oils as well as solid foods).
Using raw, unrefined sugar cane instead of processed brown sugar will provide more nutrients and most importantly help you avoid a major sugar spike in your blood (raw sugar will hit your system more slowly than refined & processed sugar).
Pumpkin is a superfood. It is loaded with nutrients like:
•Alpha-carotene and Beta-carotene (powerful antioxidents that promote healthy vision and eyes, boost healthy immune function, slow aging process, act as an anti-inflammatory, prevent tumor growth, and may even reverse skin damage caused by the sun)
•Vitamins C and E (antioxidents that help you avoid and fight colds, flus and infections and help protect from cancer)
•Fiber (promotes good digestive health, which is critical to overall health)
•Magnesium (eases stress, anxiety, and muslce tension)
•Potassium (regulates blood pressure and helps nervous system function properly)
•Pantothenic acid (Vitamin B5 – reduces anxiety and inflammation)
photo credit: Liz_Davis217 cc