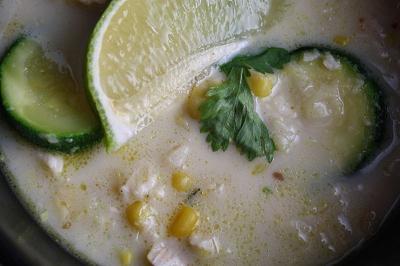 The colder, wet days here in Austin have put us back in the mood for soup. (That happens to other people to, right?)
We still haven't tired ourselves of using coconut milk. It's amazing how much fun you have with it and how good it makes everything taste. Combining its flavor with mint and lime takes you down a flavor lane you don't ever want to exit.
Is there anything the amazing coconut can't do?!
Lime Sweet Corn and Coconut Milk Soup
Ingredients
1 tbsp olive oil
1 tsp cumin seeds
1 green chilly, finely chopped
1 tbsp ginger garlic paste
4 tbsp spring onions, finely chopped
1 tbsp corn flour, mixed with two tbsp of water
1 can full fat coconut milk
2 cups vegetable stock
2 cups sweet corn (fresh is best if you've got it; use frozen if needed.)
2 -3 tbsp lime juice
Salt and pepper to taste
Mint (optional)
Directions
Using a medium sauce pan, add the oil and cumin seeds. Once the seeds begin to brown add in the ginger garlic paste, green chilly and spring onions.
When the onions are translucent add the vegetable stock and bring to a boil.
Add the corn flour and coconut milk, then reduce the heat to low.
Let it simmer for a couple of minutes, then add the corn.
Let it cook to desired thickness, and feel free to add more stock to thin it out.
Add the lime juice, mint leaves, and season with salt and pepper at the end.
Serve it up!