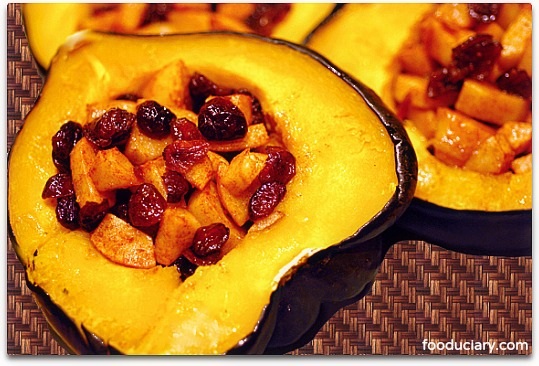 We recently discovered that we really like acorn squash. We love squash in general, and acorn is no exception. It's also fun to work with because it can provide a really great-looking meal presentation. The only thing better than plain squash is matching it up with mouth-watering flavors, colors, and textures. That's exactly what this recipe does. Hold on to your taste buds, cause it's good!

Apple Stuffed Acorn Squash (V, GF)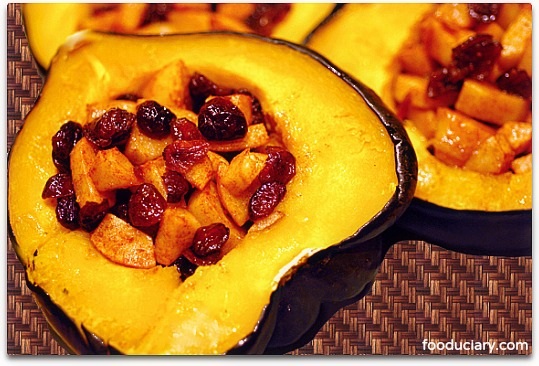 Ingredients
2 small acorn squash, about 6 inches in diameter each
2 Granny Smith apple, peeled, cored and sliced
⅓ cup walnut pieces
⅓ cup fresh, roughly chopped cranberries
¼ cup brown evaporated cane juice (raw cane sugar) or real, organic maple syrup
¼ tsp cinnamon
¼ tsp nutmeg
Extra Virgin Olive Oil
Instructions
Directions:
Preheat oven to 350° F.
In a small bowl, mix together the apples, cranberries, walnuts, brown sugar, nutmeg and cinnamon. Set aside.
Place the squash on a cutting board and cut in half. Scrape the seeds out of the center of each half and discard the seeds.
Boil the acorn squash halves for 15 minutes.
Fill the hollowed squash with the apple mixture, and lightly brush the rest of the squash that's visible with olive oil.
Set squash halves on a jelly roll pan and bake for 40 minutes.
Remove from the over, transfer the squash to a serving dish, and serve immediately.
Note: For phase 2, 3 or 4 of the Clean Eating Healthy Detox Diet omit brown sugar or maple syrup.
Health Benefits:
Acorn Squash has large amounts of vitamin A (as beta carotene), vitamin C, potassium, manganese, folic acid and even some omega 3 fatty acids (as ALA). Acorn squash is also a good source of fiber. The antioxidants (vitamins) neutralize free radicals in the body and help prevent cancer. Folic acid helps prevent heart attacks and strokes, and it is critical to nerve and brain health.
Apples help protect bones (both with boron and a flavanoid called phloridzin), help prevent Alzheimer's, help prevent many types of cancers (with antioxidents from vitamins, phytonutrients and flavanoids like quercetin and naringin, and also from fiber and pectin), lowers bad (LDL) cholesterol, and lowers your risk of asthma and diabetes.
Cranberries help fight and protect from bacerial diseases, act as an anti-inflammatory, and prevent the growth and spread of certain cancers.
Walnuts are high in protein, omega 3 fatty acids (as ALA), fiber, B vitamins, magnesium, and Vitamin E (great antioxident).
Walnuts help reduce the risk of heart disease, cancer, and even lowers bad (LDL) cholesterol.