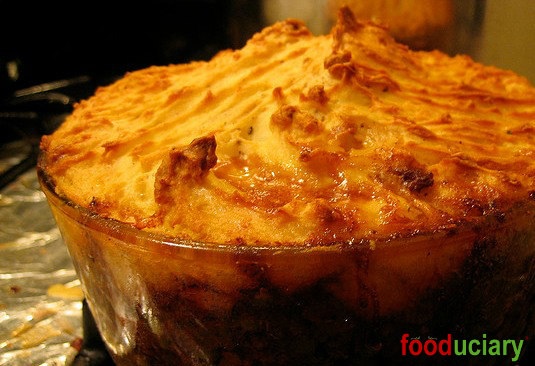 I remember a time at church when I was a kid that it was my turn to be the "spotlight" in the kids' class. The teachers had called my mom during the week to find out a few of my favorite things. The way the teachers did the spotlight was to leave the kids guessing who was it. They'd have us all stand up, then as they read a bit of what they learned from the spotlight's parents, the kids in the class would sit down if they heard something that wasn't true about them.
As the teacher was going down the list and reading favorite color, hobby, birth place etc, I started getting the idea that it might just be me. Then they read the favorite food, "Shepherd's Pie," and all doubt was removed. This spotlight all mine!
Change my last name and it wouldn't matter, it would still be my favorite food! To this day it's a dinner that makes me happy. I've tried many variations different from my mom's since I left the house, some I liked better, others I thought didn't deserve the name. But that's the beauty of the Shepherd's Pie, you can put whatever vegetables you like in it.
This recipe below is an adaptation of a recipe by Karina, aka The Gluten Free Goddess. It has become my favorite. My taste buds have changed over the years, and my brain also knows that sweet potatoes offer the most nutrition of any potato, so using them instead of regular white potatoes is a given.
This is definitely a dinner worthy of a spotlight mention.
Sweet Potato Shepherd's Pie (V,GF)
For the mashed potato crust:
3 Large sweet potatoes, diced (peel if you prefer no skin)
Vegetable broth, as needed
Olive oil, to taste
Sea salt and fresh ground pepper, to taste
Chopped fresh chives, to taste
For the pie:
1-2 Tbs extra virgin olive oil
1 tsp cumin or curry spice
4-5 Cloves garlic, minced
1 1/2 Cup cauliflower florets (about half a smallish head), cut to bite size
1 1/2 Cup green beats, cut to bite size
3 Medium-large carrots, peeled and sliced into coins
1 14-oz. can diced tomatoes
1 Cup vegetable broth
1 Tbs balsamic vinegar
1 Tbs rubbed sage
Sea salt and fresh ground pepper, to taste
1 1/2 Cup peas
Place the cut potatoes in a large pot and cover with salted cold water; bring to a boil and simmer until the potatoes are fork tender, about twenty minutes.
In the meantime, heat the olive oil in a large deep skillet and add the cumin or curry, and garlic. Stir one minute and add the fresh chopped vegetables (not the peas). Stir and cook about five minutes or so.
Add the canned diced tomatoes, vegetable broth, balsamic vinegar, sage, sea salt and pepper, and stir to combine. Bring to a simmer and cook until the sauce begins to reduce. You want the vegetables to be tender-crisp, not too done, and the sauce to be thickened and not too thin [if, by chance, you need a little more liquid to cook the veggies, add a splash more broth or water].
Taste test the sauce for seasoning adjustments; then remove from heat, and gently add in the peas. Set aside.
Mash the cooked potatoes with a little liquid and olive oil (we've used coconut oil as well and if you like the coconut flavor, it's delicious).
Season with sea salt and pepper. Add chives if you like. Taste test. Don't add too much liquid or over-mix the potatoes or they'll get gluey.
Preheat the oven to 350 degrees F.
Assemble your pie: Spoon the vegetables into a casserole dish. Top with mounds of mashed potato. Sprinkle with chopped chives or parsley.
Bake for 35 to 40 minutes, until the pie is bubbling and heated through. Serves 4 as a meal, 6 as a side dish.
photo credit:
cygnoir
cc