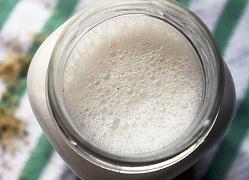 Hemp milk is the easiest non-dairy milk to make. We'll whip up a batch in about 3 minutes, it lasts a few days, and goes nicely with the food budget.
Hemp Milk
1/2 Cup raw hemp seeds
5 Cups water
Pinch of salt
Blend for 40-60 seconds. Done.
Yeah, that easy. Depending on your taste buds, you may choose to sweeten it. A couple of dates or just a tablespoon of maple syrup will do the trick.
And some people prefer to strain the milk to remove larger particles. We like having the whole seed included, but if you'd rather not, just pour the milk through a nutmilk bag or fine strainer.