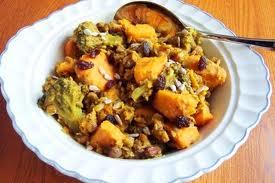 This is an easy dinner, and one that the whole family will like. It's also a good one to serve when you have your non-healthy eating oriented friends over for dinner. The curry ads a fun kick to the dish that makes this dish memorable.
Sweet Potato and Lentil Curry Casserole
Ingredients:
2 ½ cups cubed sweet potato
1 cup dried lentils, rinsed and drained
1 cup diced mango (optional)
1 cup diced tomato
1 large red bell pepper, diced
1 medium onion, chopped
1 cup fresh green beans, roughly chopped
1 cup fresh broccoli, chopped
1/3 cup golden raisins
2 Tbs hot sesame oil
1 1/3 cups vegetable broth
2 Tbs minced fresh ginger
2 cloves garlic, minced
1 Tbs curry powder
Directions:
Preheat oven to 375 F.
Combine sweet potato, lentils, mango, tomatoes, bell pepper, onion, green beans, broccoli and raisins in a medium bowl. Add oil and toss to coat. Season with salt and pepper to taste.
Whisk together broth, ginger, garlic and curry powder in small bowl and pour over vegetable mixture. Stir until well mixed.
Place mixture in a lightly oiled 9×13 baking pan. Cover pan with tin foil. Bake for 35 minutes.
Dish onto plates and serve with quinoa.
Health Benefits:
Sweet Potatoes are packed with vitamins and minerals, especially vitamins A and C, which help prevent cell damage, cancer, and immune system problems. It is also high in fiber, which aids digestion and helps regulate blood sugar levels (helping to prevent diabetes).
Lentils: Lentils are very high in fiber (aids digestion, helps prevent heart disease, helps regulate blood sugar), magnesium (helps prevent heart attacks) and iron (energy) and Folic Acid (B9 – brain and nerve health, critical to metabolic process). Lentils are also a great source of protein from plants.
Quinoa is high in fiber and is a complete protein. Quinoa is high in minerals like manganese, magnesium, iron, copper and phosphorus. It helps prevent type 2 diabetes, asthma, heart diseases, gallstones and migraines. It helps provide energy and relaxes muscles and blood vessels.