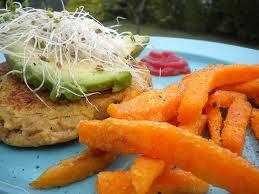 Of course the the 4th put us in the mood for grilling and burgers this week. We're not opposed to burgers from organic grass fed beef on occasion, but if you can make a burger that's just as satisfying yet loaded with healthy ingredients, why not?
This recipe is a bit of a two-step process because of the cooling time required, so you have to plan ahead. But the cooling time allows the patties to be firm enough so you can actually cook them on a grill without them falling apart. (Laying a sheet of tin foil under them on the grill still wouldn't hurt. 🙂 They were perfect for the outdoor cooking this week, and they look and smell so good that you might get a few envious glances your way from your grilling friends.
Mushroom Chickpea Burgers with Baked Sweet Potato Fries (V,GF)
Ingredients:
For Burgers-
1 Tbs extra-virgin olive oil
1 Medium onion, cut into 1/4-inch dice (1 cup)
3 Cloves garlic, coarsely chopped
2 tsp dried thyme
1 Pound cremini mushrooms or portobello mushroom caps, cut into 1/2-inch dice
4 Ounces shiitake mushrooms, stems removed and discarded, and caps cut into 1/2-inch dice
1/2 Cup cooked chickpeas, lightly mashed with a fork
1 Tbs low-sodium, wheat-free tamari
3/4 Cup chickpea flour
2 tsp cumin
1/4 Cup nutritional yeast
1 Tbs freshly squeezed lemon juice
Sea salt
Olive oil for grilling
Your favorite condiments (avocado, tomato, onion, sprouts, mustard, natural ketchup, etc)
For Fries-
1 Large sweet potato
3 Egg whites
Directions:
-Burgers
Heat the olive oil in a large skillet over medium heat.
Add the onion and garlic. Cook until the onion and garlic begin to brown.
Add the thyme and mushrooms and cook, stirring occasionally, until the mushrooms begin losing their liquid, about 4 minutes.
Transfer to a large bowl and let cool to room temperature.
When cooled, add the chickpeas, tamari, chickpea flour, cumin, nutritional yeast and lemon juice, and stir to thoroughly combine.
Taste, and add salt if needed. Transfer to the refrigerator and chill for at least an hour or up to overnight.
If the mixture is too loose to form patties, add up to 2 tablespoons of chickpea flour.
Preheat the oven to 375 degrees. Lightly oil a large baking sheets.
Form the vegetable mixture into 8 patties, about 5 inches across and 1/4-inch thick, and place the patties on the baking sheet.
Bake the patties until they feel firm to the touch and are just barely browning on the edges, about 15 to 20 minutes.
(You can also begin cooking the sweet potato fries at this stage. See below.)
Remove and let cool to room temperature.
You could eat them here at this point if you wanted to. For more of a grilled texture, we'll give them just a few minutes on the stove.
Heat roughly 2 Tbs olive oil in a large skillet, add patties, working in batches, being careful not to overcrowd them.
Fry on each side until crisp and browned, about 3 minutes per side.
-Fries
Slice potato into strips roughly 1/4-1/3 inch thick, or wedges.
With a pastry brush, coat on all sides with egg white.
Place on foil lined, lightly oiled baking sheet.
Bake at 425 for 30-35 minutes, until tender and golden, stirring once.
Serve the burgers on buns (whole grain at a minimum, or gluten free preferred), or over a green salad with your favorite condiments and accompaniments.