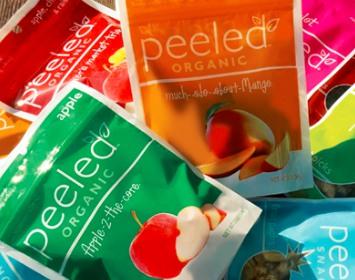 We all live busy lives, and I think we can all appreciate the need for a quick, healthy, portable snack. Brad and I really keep our eyes out for these rare bounties.
I'm so excited to introduce the latest one I've found: Peeled Snacks. They are dehydrated fruit snacks made from real, organic fruit with no added sugar or oil! As they say on their web site: "when you bite into a juicy piece of our fruit, you'll wonder why anyone would want to add sugar or fat." Indeed. When you bite into one of these fruit pieces you realize how beautifully simple they are – it's just real fruit. There is only one ingredient, and it's the fruit that's in the package. They really are that straightforward and healthy.
These also really help mix it up if most of your snacks are the nut and seed bars. Those can be great, but sometimes it's nice to work in more fruit (that isn't dates).
I haven't found these Peeled Snacks to be juicy, but they are dehydrated, so they stay good longer than fresh fruit and are easy to throw into my purse or bag. There are seven different "flavors" (fruits) with fun, clever names: Apple-2-the-core, Apricot-a-lot, Banan-a-peel, much-ado-about-Mango, pine-4-Pineapple, Cherry-go-round, and Raisin-expectations. They come in single serving sizes or family-sized resealable pouches of just one type of fruit or a fruit mix.
You can find Peeled Snacks at Starbucks, CVS pharmacies, and other locations. You can also purchase snacks online. They're what's going in my bag for snacking emergencies!
Want to try some out? We're lucky enough to have an "Organic Fruit Picks Variety Pack" to giveaway. Woohoo! (You can see more details about the Variety Pack here.) Check out the drawing below. Very easy to enter and you can pick whatever way or ways you like best. Even the giveaway has real apeel!