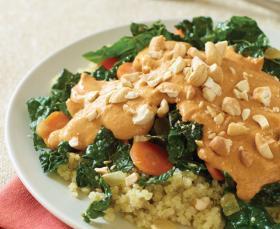 If you haven't been able to tell, we really like curry. And the amazing thing about it is how many different styles exist and flavors that can be created. The cashew butter gives a very nice texture to this version, and since it's not very spicy, the flavor comes through with full force.
This dish is fantastic with brown rice and quinoa. We've even enjoyed it with millet and amaranth. If you're feeling a little adventurous with your grains, have some fun and try out one of those options.
Kale Cashew Curry (V,GF)
Ingredients
1/2 cup cashew butter
2 Tbs red curry paste
2 Tomatoes, diced
Juice of 1 lime
1/3 Cup fresh cilantro
1 Large bunch kale
1 Tbs extra-virgin olive-oil
1/2 Yellow onion, diced
1 Garlic clove, minced
1 Carrot, chopped into thin slices
2 tsp tamari
1/4 cup water
1/2 Cup toasted cashew pieces for garnish
Directions:
In a blender combine cashew butter, curry paste, tomatoes, lime juice, and cilantro and blend until smooth.
Cut out kale stems and slice leaves crosswise into 1/2 inch strips.
Heat a large skillet over medium heat and add oil.
Add onion and cook for 5 minutes, stirring frequently.
Add garlic and carrot and cook an additional 2 minutes.
Add kale and stir until well coated and it begins to wilt.
Stir in tamari and water. Cover and cook about 4-5 minutes, careful not to overcook the kale.
Divide into serving bowls and top with cashew pieces.