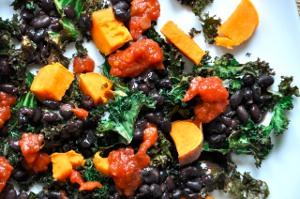 This one just feels like a good Friday night dish. It gives me thoughts of finding a good moving on Netflix, curling up on the coach next to Brad, and digging into these incredibly tasty, and incredibly healthy, nachos. I think Brad has a date tonight.
It's my humble opinion that black beans and sweet potatoes were created solely to be eaten together. They always combine well. The light cheesy flavor of the nutritional yeast sings perfectly in tune, and the crunch of the kale chips make it a fun dish to eat.
Kale and Black Bean Nachos
Ingredients
6 Cups washed, dried and chopped kale
2 Tbs olive oil
2 Tbs nutritional yeast
1/2 tsp salt
1/4 tsp pepper
1/4 tsp cumin
1 Can cooked black beans
1 Large sweet potato, baked and chopped
Salsa
Directions
Preheat oven to 375.
Add kale leaves to a small bowl with olive oil, yeast, salt, pepper and cumin.
Mix together with your hands, ensuring the leaves are well coated.
Flatten kale leaves onto a baking sheet.
Bake for 15 minutes, stirring once. Don't overcook.
Put the kale on your serving plates, top with beans, sweet potato and salsa.
Movie time!