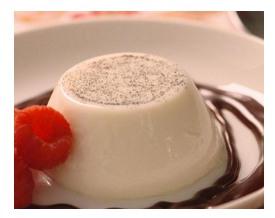 If you've had Panna Cotta you know how addicting it can be. The great news is that it can be just as good avoiding the dairy creams and using healthier sweeteners.
Using canned coconut milk makes the Panna Cotta extra creamy. Topped off with a chocolate sauce that's virtually a health food, what's not to love??
Dairy Free Coconut Panna Cotta
Ingredients:
For the Panna Cotta
1 Can coconut milk
1/4 Cup palm sugar
1 Tbs shredded coconut
1 tsp vanilla
1 tsp agar-agar
Directions:
In a medium sauce pan, bring to boil the coconut milk.
Add vanilla and the palm sugar.
Add the shredded coconut and on low heat stir or mix for 2 minutes. Add the Agar-Agar and bring to boil again, stirring for another minute.
Pour into small glass or porcelain dishes (ramekins).
Refrigerate for at least 4 hours.
For the Chocolate Sauce
Ingredients:
1/4 Cup cacao powder
1/4 Cup water
2 Tbs raw honey
2 Tbs water
1 Tbs cornstarch
Instructions:
Combine cornstarch with water and set aside.
Whisk cocoa and water together, then stir in honey and cornstarch mixture.
Gently bring the mixture to a boil over medium heat, stirring frequently until the sauce thickens to desired consistency.
Add more honey if necessary. If it becomes too thick, thin it out with a little almond milk.
Enjoy!