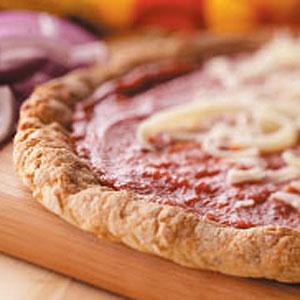 When we stopped using gluten and dairy, we thought pizza was out forever. It's not like pizza was something we ate all the time, but you have to admit, there is something magical about putting a bunch of awesome ingredients on top of a fantastic crust, picking up a warm slice with your hands, and chomping into all of in one bite.
But let's face it, some of the gluten free replacements for breads, buns, and crusts just aren't that great. We've tried many and they either fall apart the minute you touch them, or they're so hard you can hardly chew, or, they just don't taste good. We've finally come across an option that put pizza firmly back on our menu plans.
Yes, pizza can be healthy. Load this up with a fresh tomato sauce, a wide selection of your favorite vegetables and spices, and Friday nights are once again pizza night…with no guilt.
Gluten-Free Pizza Dough
This recipe makes enough for two 12-inch pizzas, or one large pizza.
Ingredients:
2 1/2 cups gluten-free high protein flour blend of your choice (see recipe for flour blend below)
1/2 cup millet flour
1 Tbs xanthan gum
1 ts. salt
2 tsp chopped dry or 1 Tbs chopped fresh rosemary (optional)
5 tsp instant dry active yeast
1 1/3 cups warm water
2 Tbs olive oil
1 Tbs honey
1 tsp apple cider vinegar
Directions:
Preheat oven to 450.
In a mixer, combine the flour blend, millet flour, xantham gum, salt and rosemary. Blend well.
Add the yeast and blend.
In a small bowl, combine the water, oil, honey and vinegar, then add to the dry ingredients.
Beat at medium-high speed for 3-5 minutes, until the dough thickens.
Scoop half of the dough onto a lightly oiled sheet of parchment paper and cover with lightly oiled plastic wrap.
Use fingertips and palms to lightly press into the 12-inch circle. Use fingertips to create a rim around the dough.
Drizzle a little bit of oil over the surface and add the sauce and toppings you want to your pizza. Repeat with remaining dough and ingredients.
Slide each pizza (with parchment paper) onto baking sheets and set it at the lowest rack of pre-heated oven. Bake 20-24 minutes depending on the thickness. The bottom of crust will be brown when done.
Sprinkle pizza with a little rosemary and serve. Delicious.
High Protein Flour Mix
1 1/4 cups bean flour, chickpea flour or soy flour
1 cup arrowroot starch, cornstarch or potato starch
1 cup tapioca starch/flour
1 cup white or brown rice flour