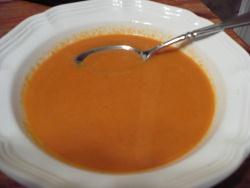 Try saying that five times fast! Luckily, you can make it almost as fast. Almost. Once you've tried this soup, you'll be repeating its name over and over, anxious to hurry back for another bowl. But you have to hurry back, because it will disappear fast.
This is an easy recipe that takes only about 30 minutes from start to finish, but it's hearty enough to make a meal of it. The coconut milk makes it really creamy and gives the soup extra oomph.
Carrot Coconut Curry Soup (V, GF)
Ingredients:
2 tablespoons coconut or olive oil
1 onion, chopped
8 carrots, chopped
1/2 tsp salt, divided
3 1/2 cups vegetable broth
1 can (15 ounces) full-fat coconut milk
1 1/2 tablespoons chopped fresh ginger
1 tablespoon curry powder
1/2 teaspoon chili flakes
Pepper to taste
1/4 cup fresh thyme
Heat the oil in a stock pot over medium heat.
Add the onion and stir for 5 to 7 minutes, until the onion begins to become translucent.
Add the carrots and 1/4 tsp salt. Continue to cook for another 5 minutes.
Add the broth, coconut milk, ginger, curry powder and chili flakes. Cover and cook until the carrots are softened, about 12-15 minutes.
Carefully pour the soup into a blender and blend until smooth.
Add the other 1/4 tsp salt, and pepper to taste.
Garnish with the thyme, serve and enjoy.