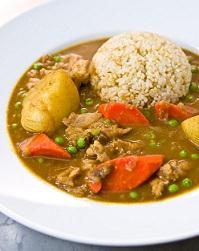 A few years ago I went on a business trip to Tokyo and spent a week being shown around by a friend from Sri Lanka. His name was Tilac, and he worked as the head chef for the Dutch embassy in Japan. He happened to have some time off while his diplomat boss was home for vacation, and as you can imagine, food was a core element of my time there.
Tilac LOVED curry. He told me a family in Sri Lanka eats curry for breakfast, lunch, and dinner, and could go a whole year without using the same curry twice. I'm not quite sure I love curry enough to try that experiment, but my palate was amazed at every single dish he had us try.
One of my favorite curries is the traditional Japanese dish. It's a thicker curry with a deep flavor. And if you've been scared away from curry because of the spiciness of Indian versions, Japanese curry is a milder version that can offer a safe entrance into the world of curry without searing off your taste buds! Tilac really wanted his Sri Lankan version to be everyone's favorite, but he lost his case when our tongues still functioned after eating the Japanese kind. 🙂
Many people will make Japanese curry from flavor bricks rather than making their own roux, and even many restaurants go this route. Those bricks, however, are loaded, and I mean loaded, with cancer-causing MSG as well as other chemicals, so don't think for a second about cheating and going with that route.
Make this dish vegan by just doubling the veggies, adding in others like cauliflower, and using olive oil (or Earth Balance) instead of ghee. Chicken, beef, or pork would be the common route. We wanted to experiment with lamb and found that it took this curry to another level of deliciousness.
Gluten Free Japanese Curry and Rice (V,GF)
Ingredients:
For the roux
3 Tbs ghee or olive oil
1/4 Cup gluten-free flour (we used arrowroot starch here)
2 Tbs garam masala (or curry powder)
1/2 tsp cayenne pepper (add less if you want it mild or more if you want it spicy)
Fresh ground black pepper
1 Tbs tomato paste
1/2 tsp apple cider vinegar
1 Tbs worcestershire sauce (or shoyu sauce will also work)
For the curry
2 tsp coconut or olive oil
2 large onions sliced thin
1/2 to 1 lb organic lamb stew meat (you could also use organic beef, chicken, or tofu)
2 carrots cut into chunks
4 Cups water
2 Large sweet potatoes (or yukon potatoes) cut into large chunks
1 Small apple peeled, cored, and pureed
2 tsp sea salt
1 tsp garam masala
1/2 Cup peas
Directions:
Heat the oil in a large saucepan over medium low heat and add the onions.
Saute the onions until they are golden brown and caramelized (about 30 minutes).
Turn up the heat to high, add the meat and brown.
Add the carrots, and the water then bring to a boil.
Skim off any foam or oil that accumulates at the surface then lower heat to medium and add the potatoes, pureed apple, salt and garam masala.
Simmer for about 30 minutes or until you can pass a fork through the carrots and potatoes and the meat is tender.
For the roux, melt the ghee in a small saucepan over medium low heat.
Add the flour and garam masala, stirring until you have a thick paste.
Stir in the cayenne pepper and some fresh ground black pepper, then add the vinegar and worcestershire sauce.
Continue to cook until the paste starts crumbling.
Remove from heat and set aside until the meat and veggies are ready.
To make the curry, just laddle about 2 cups of liquid into the roux then whisk until it's smooth.
Pour this mixture back into the other pot and gently stir until thickened. Add the peas and heat through.
Serve over brown rice or another gluten free grain.