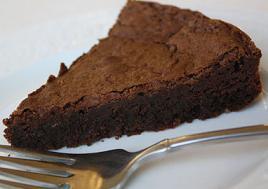 If you want to be my best friend, send me chocolate. Not for special occasions, not for a certain time of the month. Nope. It's good any day of the week. Of course it has to be clean, and the darker the better.
Besides eating it straight from an awesome bar (I love you Amano!), the next best thing I love to do with chocolate is to bake with it. Cakes, brownies, puddings…yeah, I LOVE chocolate. We know that gluten is rough on the body (that goes for everyone), so creating a gluten free chocolate cake recipe that still makes you go "mmmmm" is incredibly satisfying. (There have certainly been a few attempts at gluten free cake recipes that sounded more like "ughhh." 🙂
The secret ingredient in this recipe is garbanzo beans. Just like with our chocolate avocado pudding, depending on who you're feeding this to you may not want to disclose that bit of info until they're a couple bites in!
This is a very simple chocolate cake that can be in the oven in a matter of minutes. Experiment with replacing the sugar with stevia or lacanto, and then you've removed every ounce of downside and are left with only a clean, protein packed energy snack. Isn't it amazing what you can do with real food?!
Ingredients:
1 1/2 cups clean chocolate chips, melted
1 15oz can garbanzo beans, rinsed and drained
4 eggs (or 2 eggs and 4 egg whites)
3/4 cup sucanat or turbinado sugar
1/2 teaspoon baking powder
1/4 tsp real vanilla
1 cup sliced strawberries
Directions:
Preheat the oven to 350.
Grease a 9 inch cake pan with coconut oil or organic olive oil cooking spray.
Combine the beans and eggs in a blender or the bowl of a food processor and process until smooth. This is where our Blendtec comes in super handy. Blending the beans until they are very smooth is critical to your enjoyment of this cake! 🙂
Add the sugar and the baking powder, and pulse to blend. Pour in the melted chocolate and blend until well combined. You may need to stop the blender a few times to scrape down the sides to make sure chocolate is completely mixed. Transfer the batter to the prepared cake pan.
Bake for 40 minutes in the preheated oven, or until a knife inserted into the center of the cake comes out clean. Cool in the pan on a wire rack for 10 to 15 minutes before inverting onto a serving plate. Say "mmmmm."
Note: Read the labeling on chocolate chips and baking powder to be sure ingredients are gluten and dairy free.