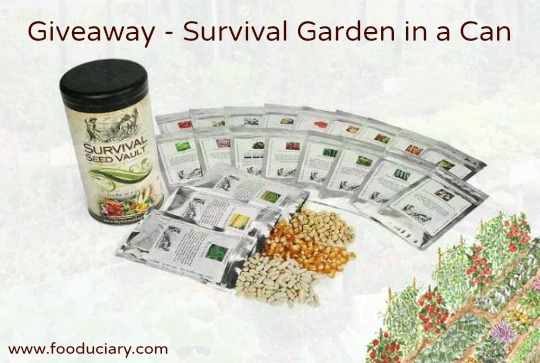 We are very excited to introduce our next giveaway. After the excitement for the coconut oil giveaway we asked you on Facebook whether we should give away another gallon of coconut oil or offer these organic heirloom seeds and the overwhelming response was for the seeds. So based on the democratic demand of our readers, let's give away some heirloom seeds!
Could you feed your family from your garden if you *had* to? What if you simply decided you wanted to?
This emergency survival seed vault was created to serve that very purpose. The vault contains 20 varieties of easy-to-grow heirloom vegetable seeds.
What's so special about heirloom seeds? Most produce grown in conventional agriculture, and most home gardens, comes from hybrid seeds. This is done to increase yield as well as select for desirable traits…that perfect head of lettuce or a cosmetically appealing tomato.
The issue with hybrid plants is that the desired trait is unlikely to manifest in a second generation of planting. That means that if you want the same results you are forced to return to the seed company to purchase seeds their seeds year after year. Hybridization also contributes to the decreasing variety of plant species grown throughout the world.
Before continuing we need to note, don't confuse hybrids with GMOs. Hybrids mate compatible species, just at an accelerated breeding pace. GMO's involve a process of taking genes from two very incompatible species and splicing them to create entirely new creations. Both involve human manipulation, but the hybrid breeding process is simply a sped up, targeted practice that anyone could do with two plants in their backyard. GMOs require expensive equipment run by genetic scientists determined to follow in Dr. Frankenstein's footsteps.
Back to heirlooms. Heirlooms are the pinnacle of natural and sustainable. They've been around for a long time (prior to the 1950's is a generally accepted definition), are not patentable, have often been passed down for generations, and are easily harvested and stored for future use. And based on personal experience, they taste a heck of a lot better too.
Having a storage of heirloom seeds gives you confidence in knowing that you could plant your seeds this year, eat the produce, store the new seeds for the following season, and continue this process indefinitely. You have security independence. And even if the zombie apocalypse never happens, you'll have a garden that'll kick out some amazingly delicious veggies. 🙂
How to Enter to Win
1) Go to this link to see the selection of organic heirloom seeds you'll be winning then use the Rafflecopter form below to enter.
2) Make sure you're signed up to our free weekly e-magazine. If you're not already a subscriber, add your email to the form below. You can unsubscribe at any time. Just know that you must be subscribed in order to be eligible to win the prize…yep, we check!
4) Get bonus entries for liking us on Facebook, following us on Pinterest, following us on Twitter, sharing this giveaway with your friends and followers, and leaving a comment. All you need to do is click the "Enter" button on all entries that you complete.
5) You can get 10 extra entries if you pin this on Pinterest! (See the rafflecopter widget for details.)
The contest will close at midnight central time on June 23rd. We'll announce the winner right here on this page on June 24th and you'll have one week to claim your prize so stay tuned!
Ready? Go!!
PLEASE NOTE: We will only send the actual product to US residents only. If you live outside of the US, we will send you a $40 Amazon gift card.
——————————————————–
UPDATE: It's time for the best part of the giveaway! We're so excited to tell you…
The winner is…
Angela K.! (husky359@…)
Congratulations Angela. Please send your mailing address within 7 Days to "feeds at fooduciary dot com" and we'll get your prize in the mail.
We wish we could make you all winners. We really do appreciate you joining our little contest and supporting us in our little mission to improve the way the world eats. When one giveaway ends another one starts. Be sure to check out our newest giveaway for a Vanilla Extract and Hemp Seed Prize Pack.
Be sure to sign up for our emails so you never miss a giveaway. Remember, you have to be an active subscriber at the time of the drawing to win!