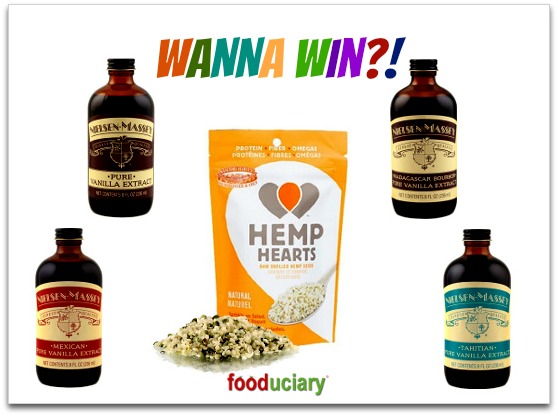 What do vanilla and hemp seeds have to do with each other? Not a thing. Other than you can will them both in one shot right here. : )
We had a chance to try them both recently and fell in love. Nielsen-Massey is a 106-year old company that produces some of the best vanilla in the world. Whether it's their picky selection standards in choosing the beans or the cold extraction process we don't know, but this was the most flavorful and fun to bake with vanilla we've used.
We're including a 4 flavor sample pack – one 2oz ounce bottle each of regular vanilla, Madagascar Bourbon, Tahiti, and Mexican.
And hello hemp! It's way past time to welcome you back to America. A favorite of our founding fathers as food and fiber, hemp, though completely different, got wrapped up in cannabis bans decades ago and is still illegal to grow in the U.S. It's legal to sell and purchase here, so we've turned production over to Canada and lucky for use they're willing to share.
We've been using Mantiboa Harvest's Hemp Hearts (raw, shelled hemp seed) in our salads, smoothies, and even just eating plain by the spoonful. They're just yummy and fun to snack on. They have more protein and fewer carbs than flax or chia seeds, though they're lower on Omega-3's and higher on Omega 6's but in a clean diet avoiding modern refined foods and including ample amounts of fresh produce with sardines and wild salmon, we're not too concerned about that.
The giveaway includes one 16-ounce package.
Can we interest you in a prize pack? Let's get to it.
How to Enter to Win
1) Go to this link to see the vanilla and hemp seeds you'll be winning then use the Rafflecopter form below to enter.
2) Make sure you're signed up to our free weekly e-magazine. If you're not already a subscriber, add your email to the form below. You can unsubscribe at any time. Just know that you must be subscribed in order to be eligible to win the prize…yep, we check!
4) Get bonus entries for liking us on Facebook, following us on Pinterest, following us on Twitter, sharing this giveaway with your friends and followers, and leaving a comment. All you need to do is click the "Enter" button on all entries that you complete.
5) You can get 10 extra entries if you pin this on Pinterest! (See the rafflecopter widget for details.)
The contest will close at midnight central time on July 7th. We'll announce the winner right here on this page on July 8th and you'll have 72 hours to claim your prize so stay tuned!
Ready? Go!!
PLEASE NOTE: We will only send the actual product to US residents only. If you live outside of the US, we will send you a $40 Amazon gift card.
——————————————————–
UPDATE: It's time for the best part of the giveaway! We're so excited to tell you…
The winner is…
Angel D.! (angelrulez19@…)
Congratulations Angel. Please send your mailing address within 7 Days to "feeds at fooduciary dot com" and we'll get your prize in the mail.
We wish we could make you all winners. We really do appreciate you joining our little contest and supporting us in our little mission to improve the way the world eats. We have another exciting giveaway right around the corner. Normally we start one right after one finishes, but this next one is going to be big so we're still preparing. It's gonna be fun!
Be sure to sign up for our emails so you never miss a giveaway. Remember, you have to be an active subscriber at the time of the drawing to win!