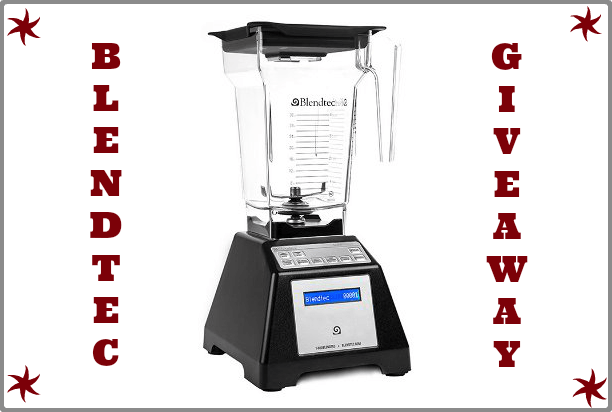 Update – the winner has been announced. See below the image gallery.
We've made you wait a long time for our next giveaway, and we promise, the wait has been worth it. Look what we have in store for you.
Long time Fooduciary readers know our love affair with our Blendtec blender. It has traveled the world, fueling us with power-packed smoothies from Utah, to Costa Rica, to Australia, all the way back to Texas, with a few more stops along the way.
Our Blendtec never leaves the counter. It's the one appliance we use on a daily basis, and often more than once. Smoothies, sauces, creams, soups – it all happens in the Blendtec.
Want to know why the Blendtec makes the other competitors look second rate? Read this little diddy right here: Blendtec vs Vitamix.
We've been using this blender for years, telling you all about it, and it's time to share the love. We are thrilled at the idea of one of our beloved Fooduciary readers sharing in the joy that only a top of the line blender can bring. (Cheesy, we know. But other Blendtec owners get it. : )
So here it is. We're giving away a Blendtec TB-621-20 Total Blender, and we want to make you a winner! We have all the usual ways to enter, and this time photos will get you even closer to Blendtec bliss.
How to Enter to Win
1) Go to this link to see the Blendtec Blender you'll be winning then use the Rafflecopter form below to enter.
2) Make sure you're signed up to our free weekly e-magazine. If you're not already a subscriber, add your email to the form below. You can unsubscribe at any time. Just know that you must be subscribed in order to be eligible to win the prize…yep, we check!
4) Get bonus entries for liking us on Facebook, following us on Pinterest, following us on Twitter, sharing this giveaway with your friends and followers, and leaving a comment. All you need to do is click the "Enter" button on all entries that you complete.
5) You can get 5 extra entries if you pin this on Pinterest! (See the rafflecopter widget for details.)
6) Want even more entries? Take a picture of your favorite smoothie, or anything else you make in a blender, upload it below, and share it on any social media site (Facebook, Twitter, Pinterest, Instagram, etc.) with a link back to this page. You'll get 10 bonus entries for putting in the time and dedication.
The contest will close at midnight central time on September 15th. We'll announce the winner right here on this page on September 18th and you'll have 72 hours to claim your prize so stay tuned!
Ready? Go!!
PLEASE NOTE: We will only send the actual product to US residents only. If you live outside of the US, we will send you a $400 Amazon gift card.
---
Share your fun photos!
[ngg_uploader]
---
——————————————————–
UPDATE: Oh man. It's finally time. We've been looking forward to this for over a month. The day to reveal the winner has finally arrived.
Someone today is walking away with a brand new Blendtec. Names have been entered, photos were submitted, and now the name has been drawn. Are you ready? Drum roll please.
The winner of the Blendtec blender is…
Janice R.! (janandfam8@…)
Congratulations Janice!! We couldn't be more excited and happy for you. To claim your prize please send your mailing address within 7 days to "feeds at fooduciary dot com" and we'll get your blender on its way to you.
We wish we could make you all winners. We really do appreciate you joining our little contest and supporting us in our little mission to improve the way the world eats.
Be sure to sign up for our emails so you never miss a giveaway. Remember, you have to be an active subscriber at the time of the drawing to win!