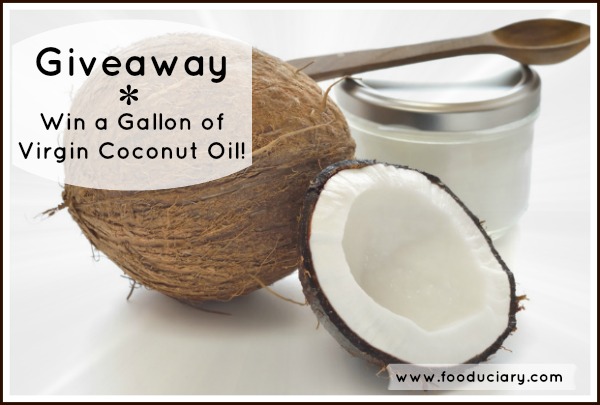 You love coconut oil, we love coconut oil, so hey, let's give some away! And we're not just talking about a little bit. We're giving away a gallon of organic extra virgin coconut oil worth $60!
It's no secret that that coconut oil is healthy and versatile. You can cook with it, use it in baked goods, create your own moisturizers, sunscreens, and lip balms, and, yes, the rumor is true…it can even be useful for you and your significant other in the bedroom.
Hopefully you know by now that there is no such thing as a healthy low fat diet. Coconut oil is full of healthy saturated fat and medium chain triglycerides (MCTs) that are so good for your brain and your metabolism.
So the question isn't what are you gonna do with a gallon of coconut oil. The real question is what can't you do with a gallon of coconut oil.
How about using it in your dark chocolate brownies or grain free chocolate cake? You know what else sounds good? Coconut oil french fries. And you could also make a sunscreen lotion bar for all your upcoming summer outings. Giddy up!
How to Enter to Win
1) Go to this link to see what you'll be winning then use the Rafflecopter form below to enter.
2) Make sure you're signed up to our free weekly e-magazine. If you're not already a subscriber, add your email to the form below. You can unsubscribe at any time. Just know that you must be subscribed in order to be eligible to win the prize…yep, we check!
4) Get bonus entries for liking us on Facebook, following us on Pinterest, following us on Twitter, sharing this giveaway with your friends and followers, and leaving a comment. All you need to do is click the "Enter" button on all entries that you complete.
5) You can get 10 extra entries if you pin this on Pinterest! (See the rafflecopter widget for details.)
We'll announce the winner right here on this page on June 10th and you'll have one week to claim your prize so stay tuned!
Ready? Go!!
PLEASE NOTE: We will only send the actual product to US residents only. If you live outside of the US, we will send you a $60 Amazon gift card.
PLEASE NOTE: We will only send the actual product to US residents only. If you live outside of the US, we will send you a $40 Amazon gift card.
——————————————————–
UPDATE: It's time to announce the winner. This is the best part! We're so excited to tell you…
The winner is…
Marina J.! (tinkerjones@…)
So happy for you Marina.. Please send your mailing address within 7 Days to "feeds at fooduciary dot com" and we'll get your prize in the mail.
We wish we could make you all winners. We really do appreciate you joining our little contest and supporting us in our little mission to improve the way the world eats. When one giveaway ends another one starts. Be sure to check out our newest giveaway for a 20 variety organic heirloom seeds vault.
Be sure to sign up for our emails so you never miss a giveaway. Want to hear something sad? We actually drew someone else's name before Marina's, then looked to verify the person was an active subscriber to to our e-magazine and she wasn't! 🙁 Don't let that happen to you.)