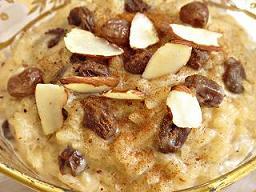 My fondness for rice pudding started when I lived in Brazil for two years in my early twenties. While a meal of rice and beans was a daily occurrence, a rice pudding dessert was another very common dish. And I never grew tired of either one. My mom would make it when I was a kid, but she'd always put raisins in it and to me that made it gross so I never ate it (I told her it was an old person's dessert). But after Brazil, where you can never refuse offered food, rice pudding became a favorite to not be able to say no to. Yeah, I was a bit chubby when I came home from that trip. 🙂
It's hard to go wrong with rice pudding, except when you use dairy to make it. Nothing's worse than a mouthful of great flavor followed by a day of tummy rumbles and nasal congestion. Lucky for humanity, rice pudding is not only easy to make dairy free, it's actually even tastier!
Coconut Cardamom Rice Pudding
Ingredients
1/2 cup almonds, chopped
1/2 cup hot water
1 1/2 cups almond milk
1 can coconut milk (full fat is the way to go!)
2 Tbs raw cane sugar
1/4 cup basmati rice, rinsed and drained
1/2 teaspoon cardamom powder
½ tsp. almond extract
Pinch of salt
1/4 cup sliced almonds and 1/2 tsp ground cinnamon, for topping
Directions
Combine the chopped almonds and hot water in a food processor or blender. Process until very fine, then pour into a saucepan through a fine strainer to remove large pieces.
Add the almond milk, coconut milk, and sugar to the saucepan and bring to a boil over medium heat, stirring continuously.
Add the rice, cardamom, almond extract, and salt.
Return to a boil, then reduce to medium low.
Cook it at a bare simmer, meaning with tiny or occasional bubbles, until so much of the milk has reduced / Simmer for 40, stirring occasionally, being careful to not overcook as it will stiffen as it cools.
Remove from heat and cool to room temperature, stirring 2 or 3 times as it cools.
Divide into bowls, top with almonds and cinnamon, serve and enjoy.