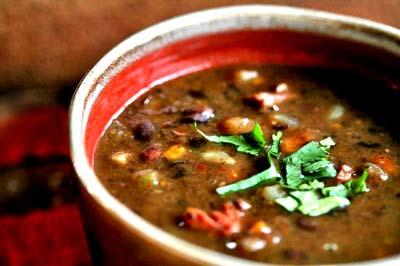 If beans are the magical fruit, black beans are the most magical of them all…in our humble opinion. They're flavorful, versatile, and pack quite a wallop when it comes to nutrition. We love making soups and stews for their ability to store well, which makes getting through the work week a little easier since the cooking's already done. This dish combines the magical black bean with the handiness of delicious soup.
'Beans, beans, the magical fruit,"…you'll be singing instead of winding with this soup. Enjoy!
Black Bean Soup (V,GF)
Ingredients:
1 Tbs olive oil
1 Onion
1 Stalk celery
2 Carrots
4 Cloves garlic, minced
2 Tbs chili powder
1 Tbs ground cumin
Pinch black pepper
4 Cups vegetable broth
8 Cups cooked black beans (4 cans, if you're using them)
2 Cups corn kernels
2 Cups crushed tomatoes
Directions:
Chop onion, celery, and carrots.
Heat oil in a large pot over medium-high heat, then add onion, celery, carrots, and garlic. Saute for about 5 minutes.
Add chili powder, cumin, and black pepper.
Stir in vegetable broth, 4 cups of beans (2 cans), and corn. Bring to a boil.
Meanwhile, in a food processor or blender, process remaining 2 cans beans and tomatoes until smooth.
Stir into boiling soup mixture, reduce heat to medium, and simmer for 15 minutes.