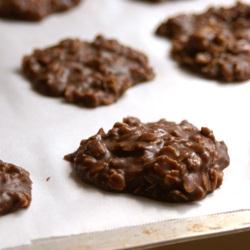 It still baffles me why food companies and old-school cooks ruined so much of what they made by using poor ingredients, whether unhealthy or down right toxic. These very easy to make cookies are so easy to make with very simple, straight forward ingredients, I just can't understand why people went and made treats that were so darn unhealthy. I mean, these are good. Why mess it up with ingredients that weren't meant for humans to eat?!
Besides being made with basic ingredients, the other big benefit to these cookies is that you can make them in about 10 minutes, not counting the cooling time. Forgot that you signed up to bring treats to tonight's school function? Or tomorrow's get together with the neighbors? Here come these cookies to the rescue. Heck, you might already have everything you need right in your panty. I love those kind of recipes. 🙂
Chocolate Almond No-Bake Cookies (V,GF)
Ingredients:
1 Cup natural cane sugar
1/2 Cup unsweetened almond milk
1/2 Cup coconut oil
1/4 Cup + 2 Tbs raw cacao powder
1/4 tsp sea salt
3/4 Cup almond butter
2 1/2 Cup gluten-free quick cook oats
1/2 Cup unsweetened shredded coconut
1 Tbs vanilla
Any stir-in items of your choice – chopped nuts, chocolate chips, etc.
Directions:
In a large sauce pan, heat over medium heat sugar, almond milk oil, cacao and salt.
Bring to a boil and boil for 90 seconds. Remove from heat.
Stir in almond butter, oats, coconut, and vanilla as well as any additional items you'd like to add.
Using spoons, form teaspoon size balls and place on parchment paper, flattening to desired thickness and shape.
Place in refrigerator to cool and set, approximately 30 minutes.
Makes 3 dozen.