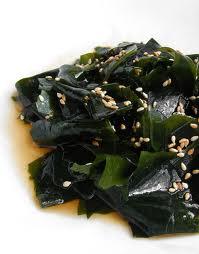 Last week we mentioned how valuable seaweed can be as part of your diet. And we also tried to make the case that if seaweed isn't something you've eaten before and might shy away from, it can actually be tasty and turn into something you like. With friends coming over for dinner on Friday night we decided to put that advice to the test.
As part of the gorgeous spread of veggie spring rolls, chia crackers with hummus (with spirulina mixed in), this seaweed salad rounded off the meal. And it was a hit. Everyone enjoyed it and went back for seconds. The night was complete with an amazingly simple raw chocolate dessert, and all left the table in grins and joy.
Wakame Seaweed Salad
Ingredients:
3/4 Ounce dried wakame seaweed (whole or cut)
3 Tbs rice vinegar
3 Tbs Nama Shoyu sauce (soy sauce may be substituted)
2 Tbs sesame oil
1 tsp natural, unprocessed sugar (optional)
1 tsp fresh ginger, peeled and grated
1/2 tsp minced garlic
1 Small Granny Smith apple
2 Scallions, thinly sliced
2 Tbs fresh cilantro, roughly chopped
1 Tbs sesame seeds, toasted
Directions:
Place seaweed in small bowl and cover with warm water. Soak for 5 minutes.
Drain, then squeeze out excess water and pat dry with paper towel.
Combine vinegar, nama shoyu, sesame oil, sugar, ginger, and garlic in a bowl and stir until sugar is dissolved.
Cut apple into 1/4-inch pieces and add to dressing with seaweed, scallions, and cilantro.
Toss to combine well.
Sprinkle with sesame seeds.