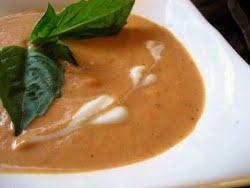 We continue Our Spring and Summer journey of lighter eating with an amazing tomato bisque. This recipe brings back memories of a favorite restaurant that was a common lunch-time destinations with coworkers. We went there just for the tomato bisque. It was only after I was able to find their ingredient list that it became a bit less tasty.
The creaminess in this recipe is supplied by the coconut milk as well as the squash. It's simple to make, with only smiles while you're eating it and no aches or regrets when you're done.
Tomato Bisque with Squash and Coconut (V,GF)
Ingredients
1 small butternut squash (acorn squash would work, too)
2 Tbs olive oil, divided
1 Tbs maple syrup
Salt and Pepper to taste
1/2 tsp onion powder
10 medium tomatoes
13 oz. can coconut milk
1 Tbs chopped garlic
Handful fresh basil, chopped
1 Cup vegetable broth
DIRECTIONS
Preheat oven to 375°
Cut squash in half and remove seeds. Brush with olive oil then sprinkle liberally with salt, pepper and onion powder.
Drizzle maple syrup on top, then place on a foil lined baking sheet, loosely cover with foil, and place in oven.
Bake for 20-25 minutes until tender. Remove skin while it's still warm.
Slice tomatoes in half and toss in olive oil, salt, pepper and minced garlic.
Place in a separate roasting pan and place in oven until bubbling and starting to brown.
Add 1 cup of coconut milk to tomatoes in hot roasting pan. Stir until well combined, scraping edges and bottom of pan.
Combine squash and tomatoes and add the basil. Allow to cool for about 10 minutes.
Scoop the tomato and squash mixture into a blender or food processor, add broth and remaining coconut milk, as well as additional salt and pepper if needed.
Blend until smooth.
Finish with a drizzle of coconut milk.