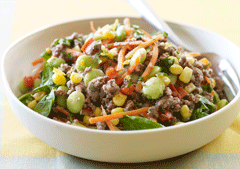 Summer Succotash (V,GF,DF)
Ingredients:
1 Tbs plus 2 tsp olive oil, divided
3 shallots, chopped
2 cloves garlic, minced
1 pound ground bison or lamb, or pasture-finished beef
1 tsp salt, divided
1/2 tsp black pepper
1 red bell pepper, diced
3/4 Cup carrots, grated
1 Cup frozen baby lima beans
1 14.5 ounce can diced tomatoes, undrained
1 1/2 Cup frozen corn, thawed
2 Cups packed baby spinach
1/4 Cup fresh parsley, chopped
3/4 tsp lemon zest
Directions:
In a large skillet, heat 2 tsp oil over medium heat. Add shallots and heat until translucent, about 3 to 4 minutes.
Add garlic and saute another minute.
Add meat, 1/2 tsp salt, and pepper. Cook until meat is browned completely, stirring occasionally. Drain and set aside.
While meat is browning heat remaining oil in a large soup pot over medium heat.
Add bell pepper and saute for 5 minutes. Add carrots and saute a few for minutes.
Stir in lima beans, meat, tomatoes, corn, and remaining salt.
Simmer until veggies are tender, about 5 to 7 minutes. Add water or vegetable broth if more moisture is needed.
Stir in spinach and cook another minute until slightly wilted.
Add parsley and lemon zest just before serving.