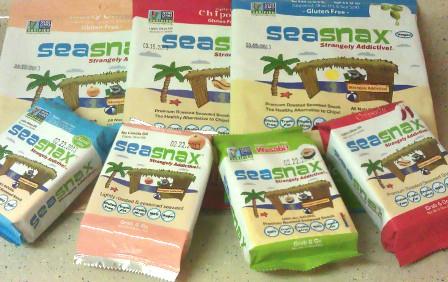 A few weeks ago we mentioned the benefits of adding sea vegetables to your diet. We've been playing around with a few recipes and keep being surprised by how tasty these dishes can be.
Then we stumbled upon a snack food that gave us one more option, an easy and convenient one we might add, to eat more seaweed. They're called SeaSnax, made by a company in, where else, California. The company was happy to share some with us so we could try them out and tell you about them.
There are too many nutrients and benefits provided by seaweed to list all of them, but here's a short list: iodine, calcium, sodium, magnesium, potassium, iron, zinc, copper, selenium and omega-3 fatty acids, all of which play important roles in your body. What's great about the SeaSnax is that they don't do anything to mess that up. The sheets of seaweed are roasted, using only small amounts of heart-healthy olive oil and a pinch of sea salt in the process. As we always say, the shorter the ingredient list the better, and you can't do much better than what they're doing here.
They make a few flavor options, and those are lightly used as well, and would add only one natural ingredient to the list, such as organic ground chipotle. They're so lightly flavored, though, that therein lies our only complaint. We honestly couldn't tell much difference between a piece of chipotle and a wasabi, or either of those to an original. There's certainly no dominating amounts of seasoning added by any means. That being said, they're flavored well enough that the crunchy sheets are enjoyable to eat with a fresh, and non-fishy taste.
The flavors include Classic (olive oil and sea salt), Toasty Onion, Wasabi and Spicy Chipotle. You can buy them in packs of sheets about the size of a piece of paper, or smaller snack pack sizes that would easily fit inside a lunch bag. We preferred the smaller sizes because they're a little easier to manage – just pop it in your mouth – where the sheets require some tearing and can be a bit messy. They're vegan, gluten free, and non-gmo certified.
The fun thing was, no matter what size or flavor we tried, these things are, as the package says, strangely addictive. The samples didn't last long we can tell you that. 🙂
Win your own haul by entering our raffle below…