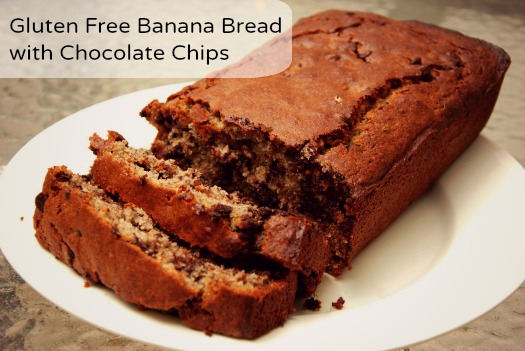 This healthy recipe makes the best banana bread we have ever had. Whenever I give something new to my cute little Australian niece she asks me "is it yuck or is it yum?" This is most definitely yum! It's big on taste, and all it's missing are refined grains, gluten, and dairy.
This is definitely one of our favorite treats, and we haven't had it for a while, so I decided to make it up for Father's Day. Of course Brad helped. We have a blast cooking together, and the only downside is that it's hard for me to surprise him…or, in the case of this recipe, have any batter left to put in the oven after Brad's many quality control checks! 🙂 I love it warm when it's first baked, and that's easy to recreate even after it's frozen: just pop it in the toaster or toaster oven. Enjoy!
Gluten Free Banana Bread with Chocolate Chips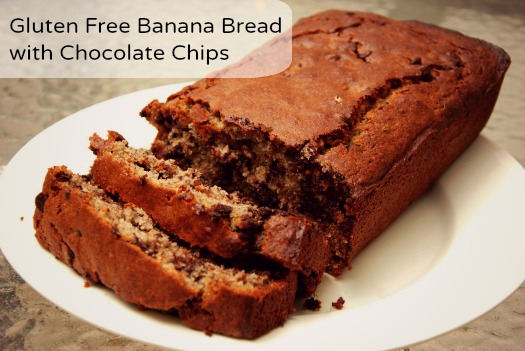 Prep time:
Cook time:
Total time:
Ingredients
3 Large or 4 small ripe bananas (the riper the better)
2 tsp vanilla extract
1½ Cups gluten-free flour blend or gluten-free baking mix (I used ½ cup each coconut, brown rice, and sorghum flours)
2 Tbs arrowroot starch
1 tsp cinnamon
½ tsp cardamom
¼ tsp nutmeg
½ tsp xantham gum
¼ tsp salt
½ Cup chopped walnuts or pecans (optional; we soak ours first)
Instructions
Combine the wet ingredients a mixing bowl.
Combine the dry ingredients in another bowl, then mix into the banana mixture and stir until smooth.
Add in the chocolate chips and nuts and stir by hand to combine.
Lightly oil the bottom of a standard bread loaf pan and dust with rice or corn flour.
Pour the batter into the loaf pan and bake in the center of the oven for about one hour – until a toothpick or knife inserted into the center emerges clean.
Cool the loaf on a wire rack. We can never wait until it's fully cooled, but it will slice more cleanly once it has.
Slice and enjoy. We slice the entire loaf, wrap remaining pieces in foil and freeze for later.