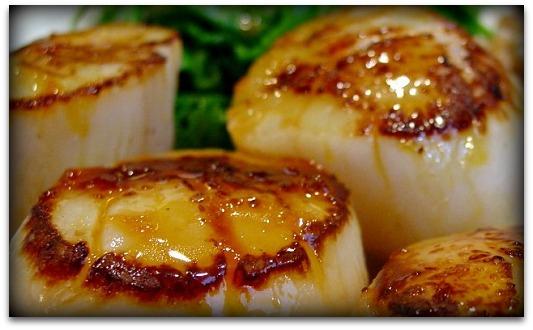 It's not unusual for those who aren't normally fans of seafood to enjoy a dinner of scallops. The firm texture and the mildly sweet flavor make it a popular dish for seafood fans and those who normally turn up their noses at other fruits of the sea.
This is a simple dish designed to let the star of the show shine. It goes great with baked or mashed sweet potatoes, and does well with a side of quinoa or brown rice.
And more benefits to scallops – they're loaded with vitamins and nutrients. A 4 oz. serving contains 50% of your daily protein needs, 45% of selenium RDA, 24% of your B12, a host of other good stuff, and even 13% of your daily calcium needs. For great scallops, the best we've found by far are the scallops from Vital Choice.

Seared Scallops with Caramelized Onions and Arugula (GF)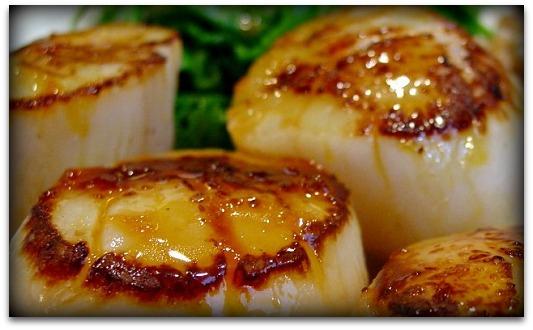 Prep time:
Cook time:
Total time:
Ingredients
2 Yellow onions, diced or thinly sliced
2 Tbs olive oil, divided
2 Tbs balsamic vinegar
2 Cups baby arugula
½ Pound scallops, patted dry
Salt and pepper to taste
Instructions
In a large skillet heat 2 tablespoons olive oil over medium heat.
Add onions and cook until translucent and soft, stirring often, about 15-25 minutes.
Deglaze pan with vinegar. Add salt and pepper.
Remove from heat and gently stir in arugula.
Sprinkle scallops with salt and pepper.
In a second skillet, heat remaining oil over high heat.
When very hot, add scallops and sear 1-2 minutes on each side.
Mound salad mixture onto individual plates and top with scallops.