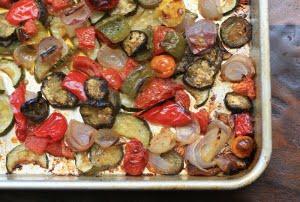 This is a fancy title for a dish that is basically just a lot of veggies chopped up and roasted together. But in saying that, I don't want to downplay how delicious this tastes. Roasting the veggies in olive oil with relatively few seasonings really brings out the flavor of these fresh summer veggies.
Our new ChopWizard that we just bought last week made this recipe go ten times faster. I LOVE this gadget! It greatly reduced the prep time of this mostly-chopped-vegetable dish, making it fun to make as well as eat. Here's a little something special we decided to try with this, with great results: when there were 10 minutes left to cook, we broke an egg for each of us right on top of the vegetables, then put the pan back in the oven. When it was done, we each scooped out a serving of the egg and all the veggies underneath. Very tasty! I highly recommend it if you eat eggs.
Roasted Rataouille
Ingredients:
1 Red pepper
1 Orange pepper
1 Zucchini
1 Onion
1 Pint cherry tomatoes
5 Cloves garlic, minced
4-5 Tbsp olive oil
1/2 Cup loosely packed basil leaves
Salt & fresh black pepper to taste
Directions:
Preheat oven to 450F.
Chop the peppers, zucchini, and onion into similarly sized pieces, about 1/2″.
Combine chopped vegetables and garlic, and drizzle with olive oil to lightly coat. You may not need all of it.
Add generous proportions of salt and pepper, and stir.
Divide the veggies between two baking sheets and spread the out evenly into one layer.
Bake the vegetables at 450 for 30-40 minutes, stirring occasionally, until the vegetables are soft and browned, being careful not to overcook or burn.
While the veggies cook, cut the tomatoes in half.
When the veggies are soft, remove the pans from the oven and evenly distribute the tomatoes amongst both pans.
Stir to mix well with the rest of the veggies.
[This is where we added the eggs.]
Cook for another 10-12 minutes, until the tomatoes are soft and their skins are wrinkled.
In the mean time, roll and slice the basil into small strips.
When the vegetables are soft and caramelized and the tomatoes have released their juices, the ratatouille is done.
Remove from the oven and adjust salt and pepper levels if necessary.
Stir in basil strips and serve.