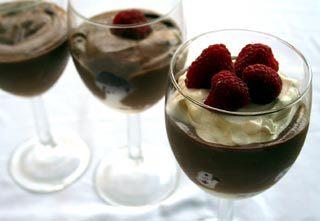 A decadent mousse with no added sweeteners. How can it be? The amazing flavors of chocolate and raspberries combined with the magic of maqui and mesquite powder make this mousse a favorite anywhere it's served.
Raw Chocolate Berry Mouse (V,GF)
Ingredients:
2 Cups plus 3 Tbs raspberries, divided
3 1/2 Tbs raw cacao powder
2 Tbs raw mesquite powder
2 Tbs coconut oil
2 Tbs coconut butter
3 Tbs raisins
1/4 tsp maqui powder (optional)
2 Tbs unsweetened coconut milk
1/2 tsp vanilla
Directions:
Combine 2 cups raspberries, cacao, mesquite, coconut oil and butter, raisins and maqui powder in food processor, or high-speed blender.
Blend on high until smooth. Pour into small serving bowls and chill for 10 to 12 minutes.
In a small dish, combine coconut milk and vanilla. Pour a small amount over each serving.
Top with remaining raspberries. Serve immediately.