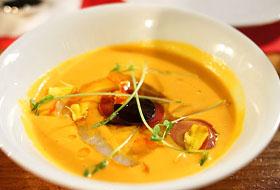 If you want it all – a yummy, healthy, but quick-to-prepare recipe, this one's for you. It's perfectly light for summer, but filling enough to be a stand-alone meal. And it's one of the quickest things we've ever made. Having a powerful blender on hand makes it even easier.
We've made this soup a couple times this last week, and I promise it is delicious. It's a great way to combine fresh, healthy produce into a savory meal. If you've never tried raw soup, I highly recommend giving this a try. You probably have all the ingredients sitting in your fridge and cupboard already. Enjoy!
Raw Carrot & Tomato Soup
Ingredients
2 Small or 1 medium garlic cloves
1 Large carrot
10 Cherry tomatoes
Handful parsley (could make half parsley, half baby spinach leaves)
1 Tbs tamari
1 Tbs olive oil
1/2 Cup freshly boiled water
1 Tbs flax oil
1 tsp curry powder
1/4 Cup finely slice fennel
1/4 Raw beetroot, peeled and grated
Directions
Peel the garlic and chop the carrot into chunks small enough for your blender to handle easily.
Put the garlic, carrots, tomatoes, parsley (and spinach if using), tamari and olive oil in your blender.
Blend on high until you have a puree.
Add hot water, flax oil, and curry powder, then blend again just until well combined.
When it's nice and smooth, stir in the fennel and beetroot by hand.
Pour into individual bowls and it's ready to serve.