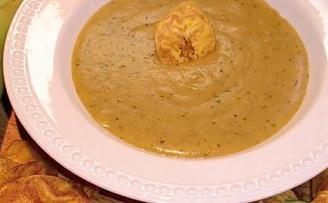 As Brad and I traveled around the world last year, we fell in love with plantains. Our first exposure to them was the traditional Costa Rican variety…deep fried in unhealthy oil and served with your rice and beans, which had aslo been cooked in the same oil. Even though our stomachs hurt afterwards, we could still admit they tasted good.
So we had fun with them on our own. A nearly ripe plantain pan fried with a little coconut oil is heavenly. And unlike what most Americans first reaction might be, they're delicious in savory dishes, like rice and beans.
In Puerto Viejo in Southeastern Costa Rica, the cooking was even more traditional – a Caribbean style. That's where we got our first taste of plantain soup. With a little research and experimentation I came up with this clean eating recipe that takes me right back to that little town every time I taste it.
Plantain Soup Clean Eating Style
Ingredients:
3 green plantains, peeled
3 Tbsp. coconut oil (for frying the plantains)
3 Tbsp. olive oil
1 Medium onion
3 cloves of garlic, minced
8 cups vegetable broth
1–2 Tbsps. chopped cilantro for garnish
Salt and Pepper
Directions:
Peel the plantains, cut them into one-inch pieces and soak in salted water for 15 minutes. Drain and pat dry the plantains. (Prior to peeling, and after cutting off the tips, soaking in ice water for a few minutes can make the peeling easier.)
Heat the coconut oil in a large skillet and fry the plantains for 10-12 minutes at medium-high until golden brown, turning several times.
Remove them from the oil and drain them well on paper towel.
When cool enough to handle, mash the plantains either in a bowl or with a mortar and pestle.
In a soup pot, heat the olive oil over medium heat.
Once hot, add the crushed garlic and onion and cook until soft.
Add the vegetable broth and bring to a boil.
Add the plantains, mix well, simmer for about three minutes and reduce the heat.
Cook the mixture over medium-low heat for about 15 to 20 minutes until it reaches your desired consistency.
Depending on how chunky you like your soup, take portions of it and puree in a blender. If you like it totally smooth, then repeat the pureeing until you've processed the entire pot of soup. Brad likes it chunkier than I do, so I'll set aside half or so that never goes to the blender.
Season with salt and pepper to taste.