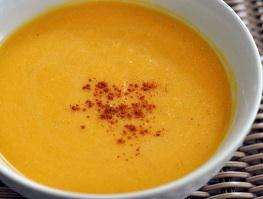 How about dinner in 5 minutes? And using only one dish? Sold!
When you're in the mood for a light meal, this delicious soup will dazzle the tastebuds with the combined goodness of papaya and coconut. Makes me feel like I'm back in Bali!
Papaya Coconut Soup (V,GF)
Ingredients:
2 Medium papayas, peeled and seeded
1 Can coconut milk (don't get the lite stuff!)
3 Tbs fresh mint
2 tsp raw honey
Zest and juice of 1 lime
1/4 tsp nutmeg
1/4 tsp cinnamon
1/4 tsp allspice
1/4 tsp ground ginger
Directions:
Combine all ingredients in your blender or food processor and puree until smooth, about a minute or so.
Refrigerate for about an hour before serving.
Pour into individual bowls, garnish with a dash nutmeg or cinnamon, and enjoy.