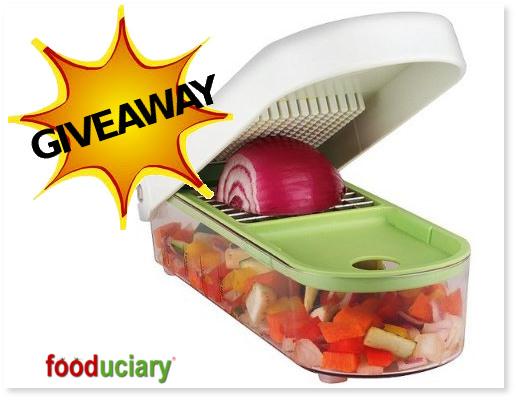 Right now we live in a small space with a tiny kitchen, so we have to be really selective about the kitchen tools we buy. When we discovered the Chop Wizard, however, we knew we had to have it. And we're so excited to share this great discovery with you!
We do a lot of cooking, which entails a lot of chopping. Unfortunately Kelli's hands tend to object to a lot of chopping, though fortunately for her she's got a great sous chef named Brad who does that chopping for her. But it's still a lot of chopping, even when your hands don't object. We knew there had to be an easier, better way.
That's when we found the Chop Wizard. We really love this thing! Just slice the veggies down to size to fit on the slicer grate, push the lid down, and bam, all done. Perfectly sliced veggie chunks. We've even had compliments on how nice our veggies look in our dishes. That's our 'Chop Wizard secret.' Perfect for anyone wanting to speed up the food prep, but especially handy for people who might struggle gripping a knife for long periods of time.
We love it so much we figured why not give one away to one of our awesome readers? That's you! Read below to learn how to enter. We'll do the drawing next week and ship the Chop Wizard right to the lucky winner's door.
How to Enter to Win
1) Go to this link and check out theChop Wizard and the different flavors.
2) Use the Rafflecopter form below to enter.
3) Make sure you're signed up to our e-magazine. If you already get our emails, sweet, just hit enter on that option. If not, add your email to the form below and you'll also get a free copy of our guide Five Days to Clean Eating. You can unsubscribe at any time. Just know that you must be subscribed in order to be eligible to win the prize…yep, we check!
4) Get bonus entries for liking us on facebook, following us on Pinterest, following us on Twitter, and sharing this giveaway with your friends and followers! All you need to do is click the "Enter" button on all entries that you complete. 5) You can get 10 extra entries — if you pin this on Pinterest! (See the rafflecopter widget for details.) PLEASE NOTE: This giveaway is open to US residents only.
UPDATE: And now to announce the winner of the Chop Wizard.
The winner is…..
Arcelia C.! (rcmassagetherapy@…)
Congratulations Arcelia. Send an email to feeds at fooduciary dot com with your mailing address and we'll get your prize in the mail.
Didn't win? Well guess what. We have another giveaway going on right now. Win a box of Raw Crunch bars right here. Be sure to sign up for our emails so you never miss a giveaway.