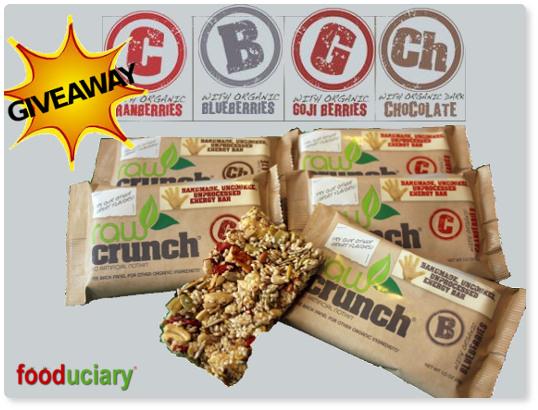 Are you tired of sweet, sugar-loaded "energy" bars? We are too. When you move beyond the garbage bars filled with all sorts of isolates, syrups, and artificial flavors, it's hard to find bars that don't use sweet fruits as their main ingredients. Even though it's natural sugar, it still feels like a blood sugar rush the minute you take a bite.
We gave up on store-bought bars, resorting to making our own dehydrated snacks with nuts and seeds, and an occasional fruit. But we kept running out midweek with no time to make more. Then we got some great news: the existence of Raw Crunch Bars.
Uncooked, unprocessed, and finally, a real-food bar that doesn't taste like candy. Ross and Kathy, the Raw Crunch creators, were happy to let us try them out and guess what…we've got a box to share with you too.
These have become our favorite bars and we order them boxes at a time. The ingredients are simple. All foods you could could recognize. Heck, if you buried one of these bars in the ground you'd probably see a plant growing a few weeks later. Plant a bar, grow a plant! They're that real. Just straight up real, whole food, enjoyable without being doused in sugar and sweet.
This is the bar you want for blood sugar and insulin control.
When we do giveaways and reviews we try hard to find flaws too. We want you to know our honest opinion. Well for the Raw Crunch bars, honestly, our only complaint is that we can't find them in a store near us yet. We'll be talking to a few store managers about that!
Would you like to try them out? It's easy to enter, and the winner's going to get a sampler box – 12 bars, 3 of each flavor. Enter below….
How to Enter to Win
1) Go to this link and check out Raw Crunch and the different flavors.
2) Use the Rafflecopter form below to enter.
3) Make sure you're signed up to our e-magazine. If you're not already a subscriber, add your email to the form below to signup for our free e-magazine and you'll also get a free copy of our guide Five Days to Clean Eating. You can unsubscribe at any time. Just know that you must be subscribed in order to be eligible to win the prize…yep, we check!
4) Get bonus entries for liking us on Facebook, liking Raw Crunch's Facebook page, following us on Pinterest, following us on Twitter, and sharing this giveaway with your friends and followers! All you need to do is click the "Enter" button on all entries that you complete.
5) You can get 10 extra entries — if you pin this on Pinterest! (See the rafflecopter widget for details.)
PLEASE NOTE: This giveaway is open to US residents only.
UPDATE: And now to announce the winner of the Raw Crunch Bars.
The winner is…..
Annette P.! (waytoomanycats@…)
Congratulations Annette. Send an email to feeds at fooduciary dot com with your mailing address and we'll get your prize in the mail.
Didn't win? Well guess what. We have another giveaway going on right now. Win a Cuisinart Immersion Blender right here. Be sure to sign up for our emails so you never miss a giveaway.