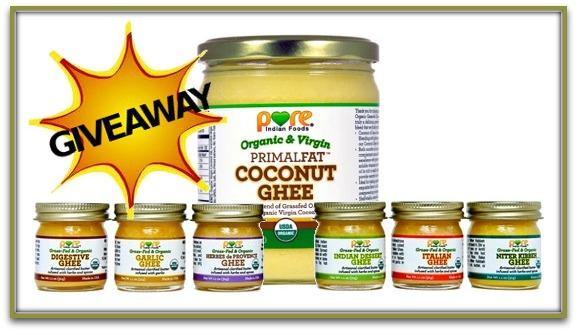 Have you heard of ghee? If you've tried it out what do you think? If you haven't heard of it, well you're in for a treat.
Ghee is a common Indian food made by melting and simmering unsalted butter until all the water evaporates and the milk solids settle at the bottom. The butter oil is then scooped from the top, cooled, and that's ghee. Ghee is very stable, giving it a high smoke point which makes it great for frying and sautéing, and it can be stored without refrigeration for several months.
And since the milk solids have been removed, ghee is essentially lactose free, so even those who don't tolerate dairy well (like Brad) are normally ok with ghee. We still use coconut oil as our primary cooking oil, but in recipes where a hint of coconut flavor isn't wanted, ghee is a great option.
Ghee is a dairy product, so you have to be very selective in the companies you buy from. That's why we're thrilled with the company Pure Indian Foods. All of their products are organic and made from milk from grass fed, ethically raised cows. Ready for a killer giveaway? This is cool.
Pure Indian Foods is giving away a 14.2oz jar of Primal Fat Coconut Ghee, and a six-pack of 1.1oz assorted Spiced Ghee, a $36 combined value. The Coconut Ghee is a 50/50 blend of Organic Grass-fed Ghee and Organic Virgin Coconut Oil. You get the fat-soluble vitamins and short-chain fatty acids from the ghee, and medium-chain fatty acids from the coconut oil.
And the Spiced Ghee…wow. Ghee infused with various herbs and spices, each one perfect for a different occasion. We've loved mixing the Desert Ghee into a warm ginger tea. Yum.
Let's get down to business.
How to Enter to Win
1) Go to this link to check out Pure Indian Food's website.
2) Use the Rafflecopter form below to enter.
3) Make sure you're signed up to our free weekly e-magazine. If you're not already a subscriber, add your email to the form below. You can unsubscribe at any time. Just know that you must be subscribed in order to be eligible to win the prize…yep, we check!
4) Use the Rafflecopter widget below to enter this giveaway. You can earn extra entries for liking Pure Indian Foods on facebook, liking Fooduciary's facebook page, following us on Pinterest, leaving a comment, following us on Twitter, and sharing this giveaway with your friends and followers! All you need to do is click the "Enter" button on all entries that you complete.
5) You can get 10 extra entries — if you pin this on Pinterest! (See the rafflecopter widget for details.)
PLEASE NOTE: This giveaway is open to US residents only.
UPDATE: And now to announce the winner of the Pure Indian Foods Organic Ghee Package.
The winner is…..
Tamara S.! (tamarashelley@…)
Congratulations Tamara. Send an email to feeds at fooduciary dot com with your mailing address and we'll get your prize in the mail.
Didn't win? Well guess what. We have another giveaway going on right now. We're giving away a product package from Natural Vitality, including their amazing Natural Calm magnesium supplement, right here. Be sure to sign up for our emails so you never miss a giveaway.